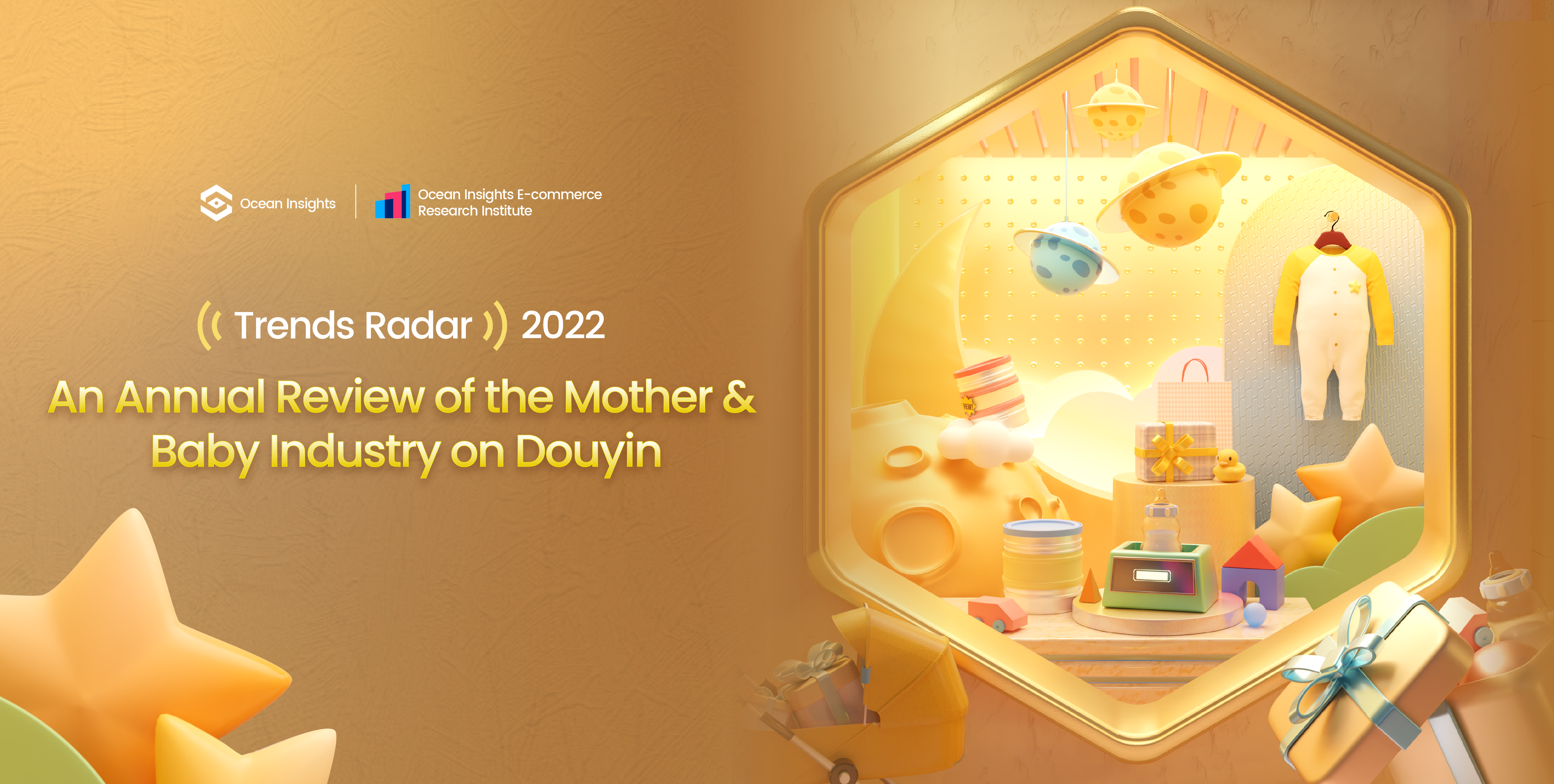 Trends Radar: China's Mother & Baby Care Industry
August 16, 2023
11 mins read
China's mother & baby industry is experiencing major shifts in consumer demand, lifestyle choices, and purchasing power, according to the latest research report from Ocean Insights and the Ocean Insights E-commerce Research Institute.
As we reflect on the year that was 2022, the research shows that fine-grained segmentation, advanced features, and emotional resonance also emerged as pivotal product trends in the mother & baby industry. According to the report, brands that skillfully capitalize on these opportunities are poised for substantial growth in the coming years.
Join us by reading on as we delve into the key insights and trends unveiled in the latest report, "Trends Radar: An Annual Review of the Mother & Baby Industry on Douyin".
Economic shift: From high-speed growth to high-quality development
As China experiences a fading demographic dividend and a declining birth rate, opportunities in the mother & baby market are naturally shifting. Notably, slowing growth in the market size of the baby care industry in China has intensified competition among existing segments within the market.
The preceding rapid growth phase in the mother & baby industry has since given way to a focus on high-quality development and value-driven strategies. Embracing this shift, industry players are actively exploring ways to enhance the quality of their products and services to meet the evolving demands of discerning consumers.
According to industry research, the keywords "face the status quo," "return to value," and "resilient growth" resonated throughout the industry in 2022, reinforcing the need for product quality improvement, usage scenario extension, and new product marketing innovation strategies.
Industry trends on Douyin: Short videos and live streams are on the rise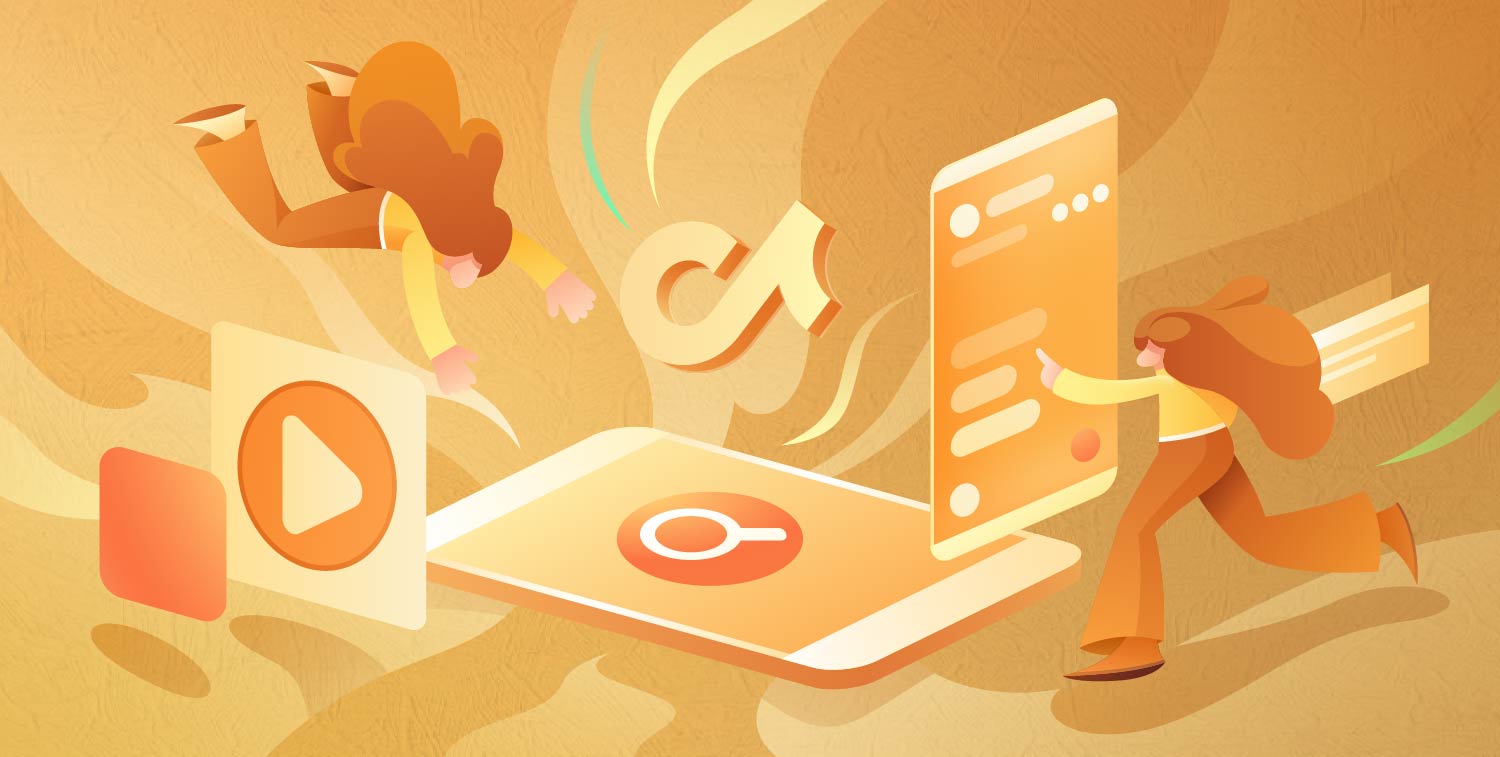 The creator community in the mother & baby care industry on Douyin has flourished, surpassing an impressive count of 90,000 by December 2022, marking a remarkable year-over-year increase of 30%. This surge in creator numbers indicates a thriving community of individuals passionate about sharing their knowledge and experiences. With this growth, short videos and live streams have become more professional and diverse, catering to a wide range of parenting topics and interests.
Short videos
Short videos centered around the mother & baby industry experienced a staggering YoY increase of over 26% in views. The average monthly video views surpassed a remarkable 110 billion, showcasing the immense popularity and engagement surrounding this content. The rise in video consumption signifies a growing interest in users seeking entertaining and informative videos that cover various aspects of parenting.
Livestreams
The popularity of live streams related to the mother & baby industry has soared, with a substantial YoY increase of nearly 36.6% in viewership. The average monthly viewers exceeded a whopping 4 billion, highlighting the effectiveness of livestreaming as a powerful tool for engaging and interacting with audiences. Overall, live streams provide a dynamic platform for brands and creators to showcase products, share parenting tips, and build a loyal following.
Searches
The volume of searches related to the mother & baby industry in China experienced a remarkable YoY increase of 93.4%. This surge indicates a growing number of users actively seeking out parenting-related content. It underscores the importance of providing valuable and informative resources that address the curiosity and concerns of parents.
Douyin content trends: Exquisite, international, and safe
As content on Douyin related to the mother & baby industry continues to grow, several major trends have emerged, shaping the landscape and influencing consumer behavior. From the embrace of international brands and high-end brands to new topics, these trends provide valuable insights into the evolving preferences and demands of modern-day parents.
The era of exquisite parenting: Embracing mid-to-high-end brands Views of videos related to mid-to-high-end brands witnessed a significant YoY increase of 61.6%, signaling a shift towards a new era of exquisite parenting. This reflects the evolving demands of discerning parents who value sophistication and exclusivity in their choices as consumers increasingly seek out premium offerings that provide elevated experiences and superior quality.
Embracing international brands: Meeting diverse consumer needs The appeal of international brands within the mother & baby industry is on the rise, as evidenced by an impressive YoY increase of 83.5% in video views. The availability of diverse international brands caters to the diverse consumption needs of the market. This trend also signifies an increasing openness among consumers to explore and adopt products from global brands, offering a wider array of options on the market.

Hot topics: Baby development, pregnancy, and more Throughout the year, several hot topics emerged within the mother & baby industry on Douyin, including baby development, pregnancy, daily life, and complementary foods. Additionally, there was a notable 50% increase in health and safety-related content, highlighting the heightened focus on protecting families during these extraordinary times. The relevance of Covid-19 safety measures also became a significant trend, reflecting the need for parents to stay informed and ensure the well-being of their children.
Seasonal trends: Spring time opportunities and shopping holiday festivals
In addition to trending content and product categories, there are also seasonal trends to consider.
For instance, during the Spring season, the most sought-after products for mothers and babies include spring outing and travel gear, casual wear, sun protection and rain protection products, snacks, and sensitive skin care products. Marketing campaigns during these months often focus on keywords such as "going out," "travel," "sports," "breathable," "casual," and "comfortable."
Furthermore, the popularity of content related to diapers and wet wipes tends to surge during shopping festivals like New Year, Aug 18, Double 11, and Double 12.
On the other hand, content associated with mother products maintains stable performance throughout the year, but exhibits enhanced engagement in the second half, coinciding with the occurrence of multiple shopping festivals.
Know your audience: Age groups and interests are key to audience targeting
When it comes to the mother & baby product industry, female consumers demonstrate the highest interest, comprising approximately 70% of the target audience across various subcategories. Among different age groups, the 31-40 range emerges as the leading segment, showing the most interest in baby foods, children's toys, children's apparel, baby products, wet wipes, and diapers.
Conversely, products tailored for mothers, such as maternity dresses, breast pumps, and milk powder for pregnant women, predominantly attract consumers aged between 18 and 30. This aligns with the fact that this age group accounts for the highest number of births.
Insights derived from the "Top 100 Interest Groups" also shed light on core interest groups within the China mother & baby industry. Notably, medical beauty enthusiasts, music and game enthusiasts, and earworm fanatics exhibit distinct interests in beauty, music, and games.
For brands seeking to maximize product sales across a broader audience, combining the general characteristics of their target customer group with these interest characteristics can prove highly valuable in their advertising strategies.
Trends to watch
Having looked at the popular product categories in 2022, it's time to identify and forecast avenues for new product development and selection.
To highlight these opportunities, this year's Trends Radar explored the findings from Ocean Insights' "New Trending Product Categories" model that forecasts the emergence of trending product categories in China based on their stage of development, consumer demands, and current market supply.
Drawing inspiration from the "Earthquake and Mountain Range" theory, which likens the birth and growth of a product category to the formation of a mountain range through seismic activity, this model identifies the pivotal "hypocenters" that give rise to product categories.
The model then categorizes opportunities into three stages: early-stage, fast-growing, and mature product categories.
| | | |
| --- | --- | --- |
| Early-stage | Fast-growing | Mature |
| JK costumes | Stationary gift boxes & painting sets | Coats |
| Puppets & jointed puppets | Household robes & nightgowns | Children's sneaker |
While the report goes into more detail, JK costumes and puppets stand out as early-stage product categories, while stationary gift boxes and painting sets, alongside household robes & nightgowns, are showing fast growth. In terms of mature product categories, coats and children's sneakers remain strong sellers.
To maximize their influence and harness greater traffic on the platform, merchants and creators are advised to leverage information on trending topics and product categories. By aligning their content creation with these insights, they can create more impactful and influential content.
Insights from the top mother & baby product categories
Based on the Trends Radar report, below is a snapshot of the top findings for major product segments. Within the full report, you can explore additional information on trending hashtags, top-selling products, and user demographics for a more comprehensive understanding.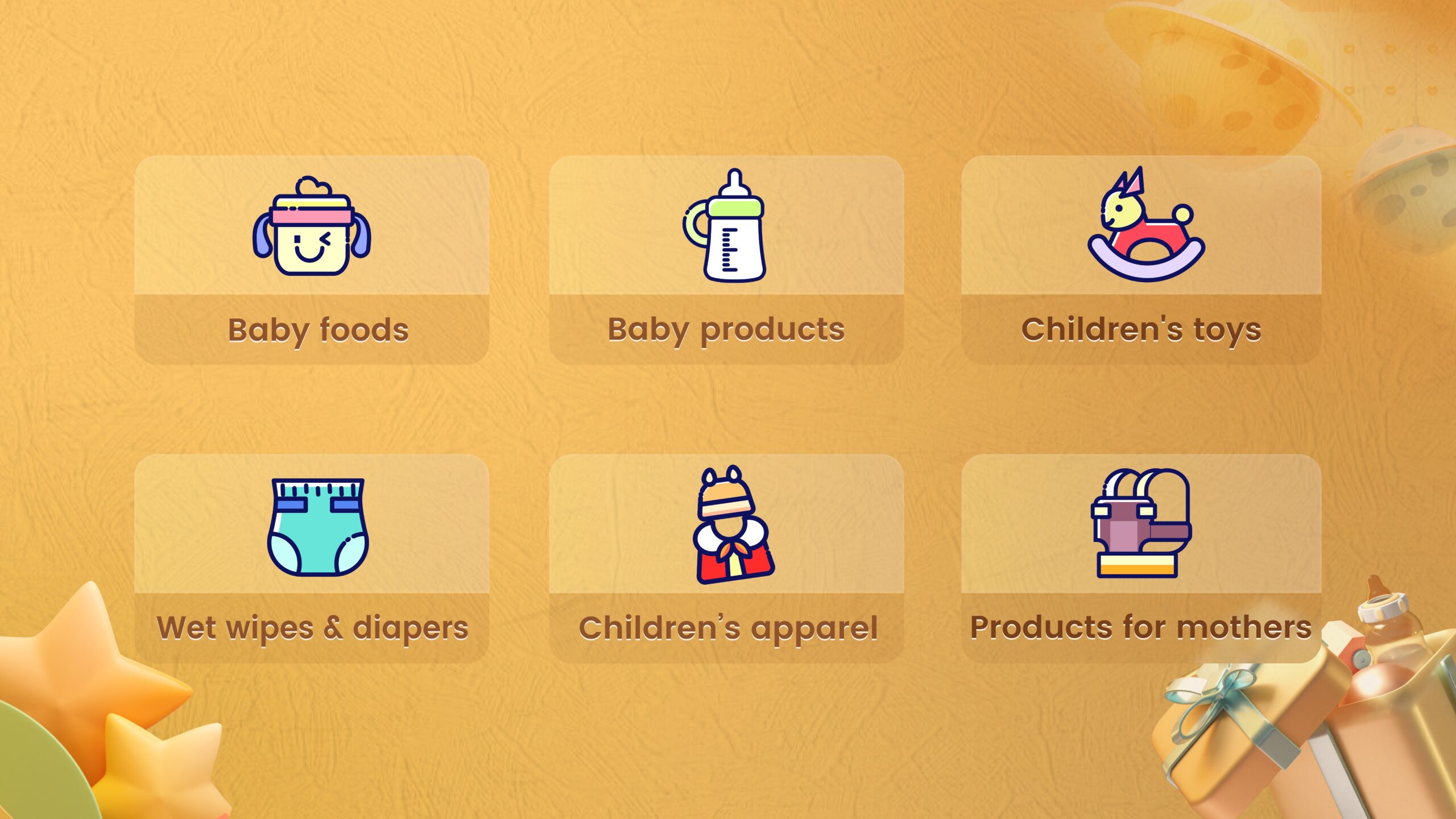 Baby foods
Content related to this market segment continues to gain momentum as the potential of the baby formula and supplementary foods market comes to fruit. Hot topics related to diet and dining provide growth opportunities for this segment.
As parents take an increasingly scientific approach toward feeding, the three trends of precision feeding, diversified feeding, and quality feeding have emerged. These trends benefit the complementary foods, nutritional products, and snacks product categories.
Children's toys
Content related to this market segment is heavily affected by major promotion activities on holidays such as New Year's Day and Children's Day. Hot topics related to holidays, educational toys, and fun toys provide marketing opportunities for this segment.
Educational and electronic toys have gone mainstream as the younger generation of parents place more attention on their babies' early development. Parents want to combine education with fun and allow their kids to learn through play.
Children's apparel
Videos related to children's apparel increased by 67.4% YoY. Consumers are willing to spend money to dress their kids up. Professional sports, festivals, and fashion are several hot topics related to this segment.
When it comes to children's apparel, more and more consumers attach importance to aesthetics and quality. Demand for functional products exploded with professional sports shoes and clothing are trending. Pure cotton, breathable, cute, and sporty are some of the keywords consumers are looking for when they dress their kids.
Baby products
Content related to baby products continues to grow steadily. In an era of exquisite parenting, hot topics related to "mother & baby care" can serve as key selling points for this category.
Product categories related to feeding, travel, sleep, and personal care performed well. Key selling points for this market segment include "exquisite", "comfort", and "pleasure".
Wet wipes & diapers
Content related to diapers and wet wipes increases significantly in months when shopping festivals (i.e. New Year, Aug 18, Double 11, and Double 12 shopping festivals) are held. Hot topics related to safety, hygiene, and diapers provide opportunities for this segment.
Baby paper products, including diapers and wet wipes, are at the center of this market segment. Consumers are not only concerned about basic characteristics, such as safety, gentleness, and skin-friendliness, but also about functionality, appearance, and gender applicability.
Products for mothers
Content related to mother products performs stably throughout the year but performs better in the second half of the year. Hot topics include pregnant women's wear, fitness, and health.
Maternity products are further divided into sub-categories to reflect the full process of having a baby, from pregnancy preparation and predelivery to postpartum care. Relevant users are more interested in products for postpartum care, pregnancy preparation, and early pregnancy. Softness, comfort, and moisturizing are keywords that appeal to these users.
Learn more about China's mother & baby industry
In a rapidly evolving industry, staying informed about the latest trends and insights is crucial for success. To help you take your next step in China's mother & baby market, we invite you to read and explore "Trends Radar: An Annual Review of the Mother & Baby Industry on Douyin".
Presented by Ocean Insights and the Ocean Insights E-commerce Research Institute, this insightful report offers a detailed analysis of the online content landscape, hot parenting topics, demographic trends, and a comprehensive list of future predictions within the industry. By immersing yourself in this resource, you'll gain a competitive edge and be equipped with the knowledge needed to navigate the ever-changing landscape of the mother & baby care industry.
Download the full report.