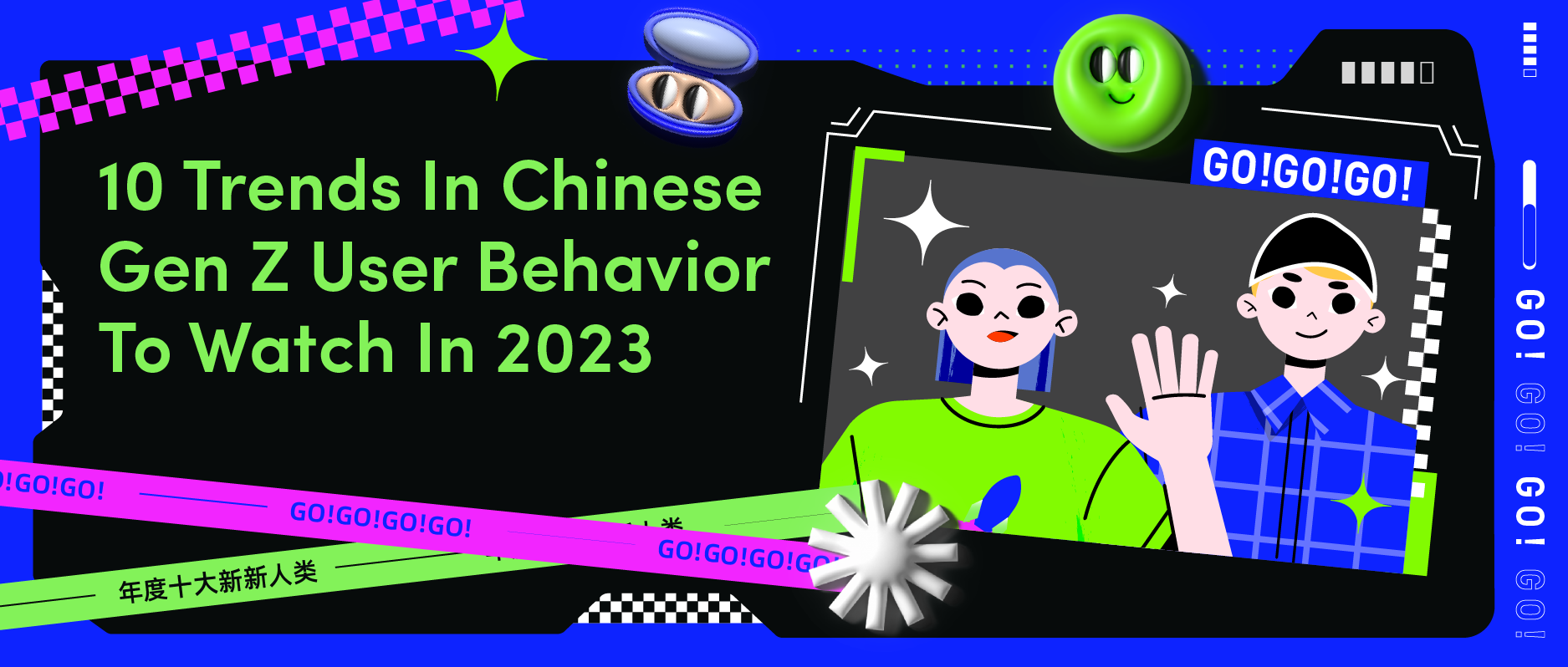 10 Trends in Chinese Gen Z User Behavior to Watch in 2023
February 13, 2023
6 mins read
We all know Gen Z is savvy when it comes to digital devices and social media platforms, but what do they actually get up to online? What are they buying? What videos do they watch and what matters to them?
To uncover the latest trends in Gen Z behavior, Ocean Insights and CBNData have co-released a user study based on data collected from Douyin, a highly popular content and entertainment platform. With over 10% of its users aged between 18 and 23, Douyin is a major indicator of Gen Z interest and new e-commerce trends in China.
Generation Z Trends on Douyin
Gen Z is a diverse audience group and their social video-viewing habits certainly back this up. From eco-friendly dressing to early retirement, Gen Z loves to explore new ideas and pursue their individual passions online.
Data shows that Gen Z is also incredibly knowledgeable and well-informed on a range of issues, including workplace equality, sports, and entertainment, which all trended as popular topics in 2022. When they're not leveling up their knowledge of new topics, Gen Z pursues a range of unique passions including outdoor activities, home fitness, fashion, and even tidying up!
To enhance your understanding of Gen Z consumers, we have compiled the top 10 behavior trends among Gen Z for 2022. These trends aim to provide insights into the common characteristics and habits of Gen Z users as you prepare your marketing and advertising campaigns for 2023 and beyond.
1: Emotional Organizers
In 2022, many young people chose to de-stress by watching tidying-up and organizing videos on Douyin. For Gen Z, tidying up and neatly organizing their belongings has proved to be an effective way to break out of a bad spell.
In 2022, comments on Emotional Organizers' content grew by 236.9%, while sharing of their video content expanded by 226.9%. Total views across this subcategory reached over 970 million.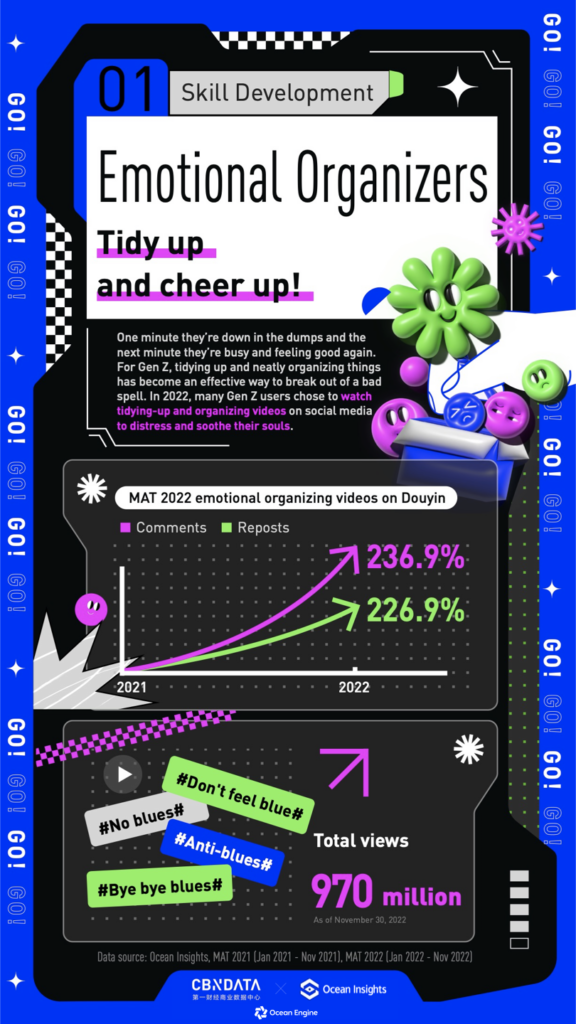 2: Quick Recap Fans
Stealing from the professional production of original TV series and films, quick recap videos take existing media content and synthesize it into fast and informationally dense clips. With montages of the best scenes and to-the-point commentary, these quick recaps offer all the highlights in a matter of minutes.
Newly published video content in this subgenre shot up by 52% on Douyin in 2022, largely driven by demand from fans living in the cities of Guangzhou, Chengdu, and Chongqing. Quick recap videos were found to be most popular among male users.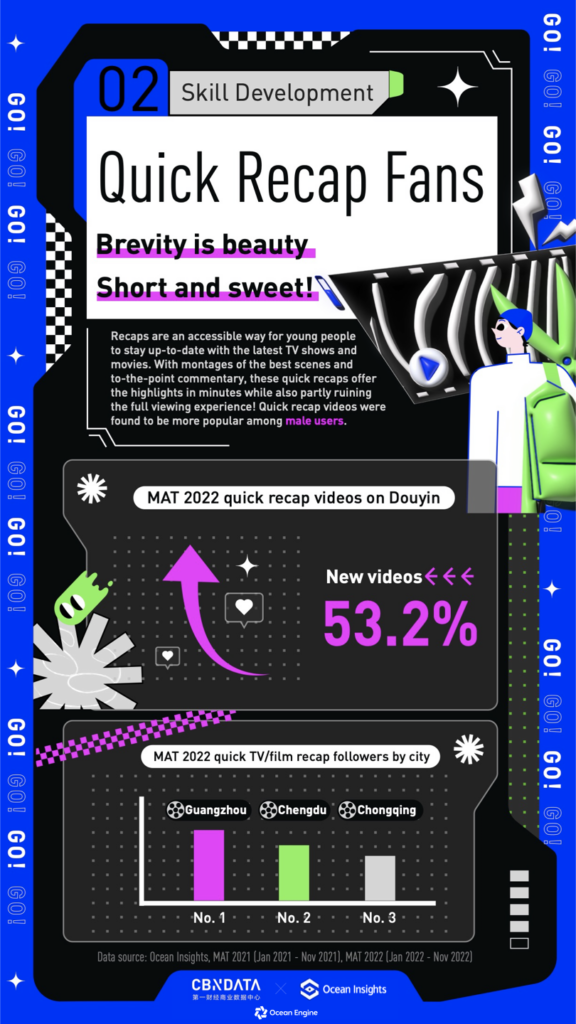 3: Instant Info Junkies
In 2022, demand for instant knowledge skyrocketed as short-video platforms in China became a popular tool for young people to make sense of the world. Our recent survey found that nearly half of young respondents use Douyin as a tool for acquiring new knowledge.
The data shows that search traffic for knowledge-related content rose by a staggering 1336.4% in 2022 and new content posts for this subcategory increased by 540.8%. The top sources for viewers were Linyi, Zhenzhou, and Guangzhou.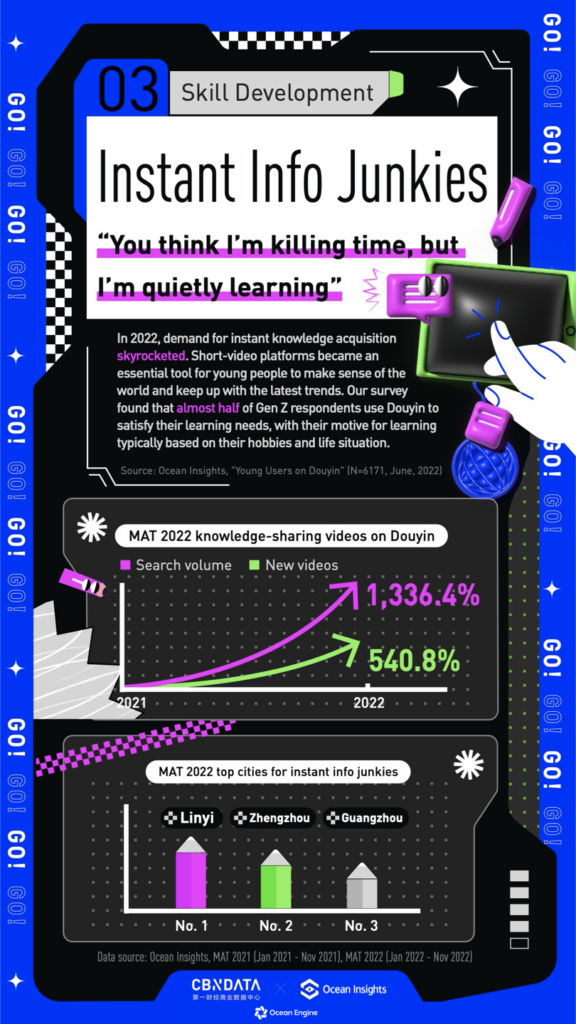 4: Noverlty Hunters
"Novelty Hunter" refers to Gen Z users that are drawn to videos that feature innovative, novel, or unconventional products. This user group is also more likely to place purchase orders as a result of watching a video connected to an e-commerce offer.
Novelty Hunters are generally female users, representing 64% of users in 2022. Comments from Novelty Hunters, meanwhile, grew by 1456.1% in 2022, while video sharing jumped by 1059.7%.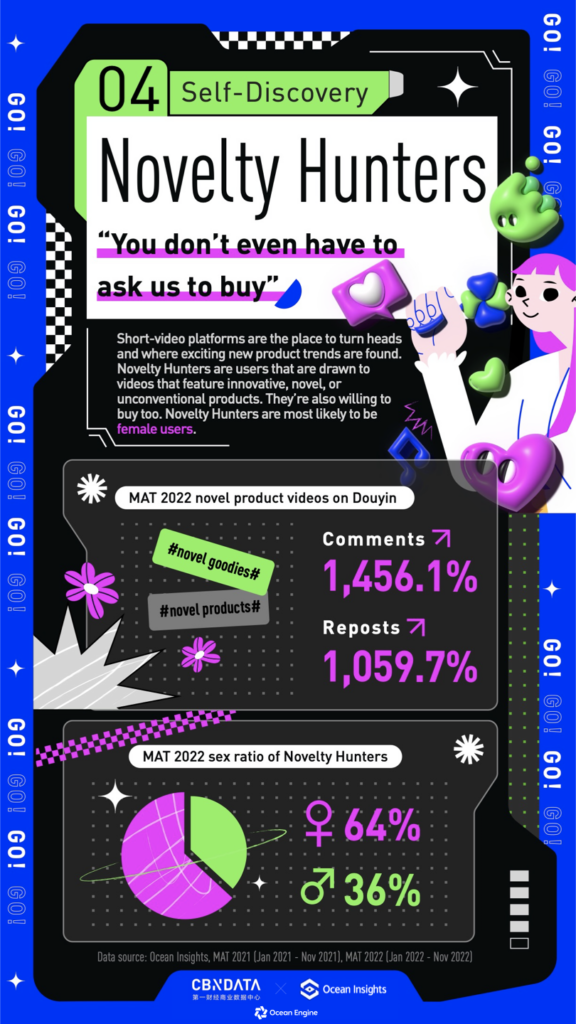 5: Calorie Burners
In the first half of 2022,
Liu Genghong
ignited a home fitness revolution on Douyin with shuttlecock (a hackysack style kicking game in China) inspired fitness exercises played to the song Ben Cao Gang Mu (Compendium of Materia Medica) by Jay Chou.
The Qatar World Cup then took the world by storm in the second half of 2022. Sports turned into an online addiction for Gen Z with sports-related video searches growing 116.1% in 2022 and views of Ben Cao Gang Mu workout videos hitting a whopping 12.9 billion!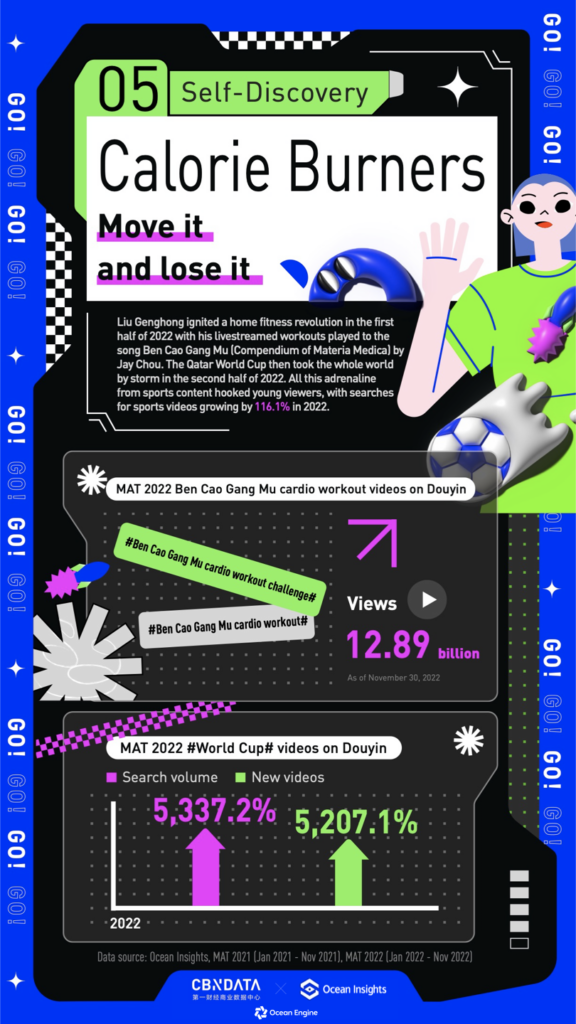 6: 8am Makeup Devotees
Ultra-efficient makeup tips trended in 2022, with users keen to contribute makeup hacks to make every second count before going outside in the morning.
Demand for ultra-efficient makeup tips exploded in 2022, with new content up 10996.8% and total views growing 9360.1%!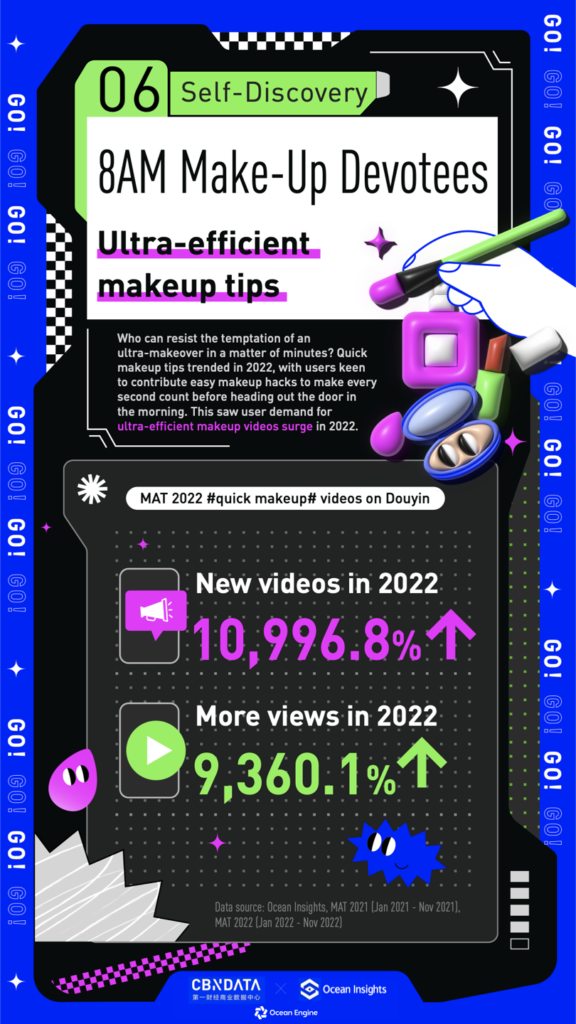 7: Outdoor Hipsters
As a break from the rat race of modern life, more and more Gen Z are choosing to pursue outdoor activities, such as camping, picnics, hiking, frisbee, surfing, and skating.
Casual outdoor lifestyle content was a hot trend on Douyin in 2022, with over 60% of male users choosing to pursue outdoor experiences. Related search queries grew by 557.4% and video content increased by 318.5%. The top cities for users in this subcategory were Chengdu, Shenzhen, Guangzhou, Quanzhou, and Qiannan.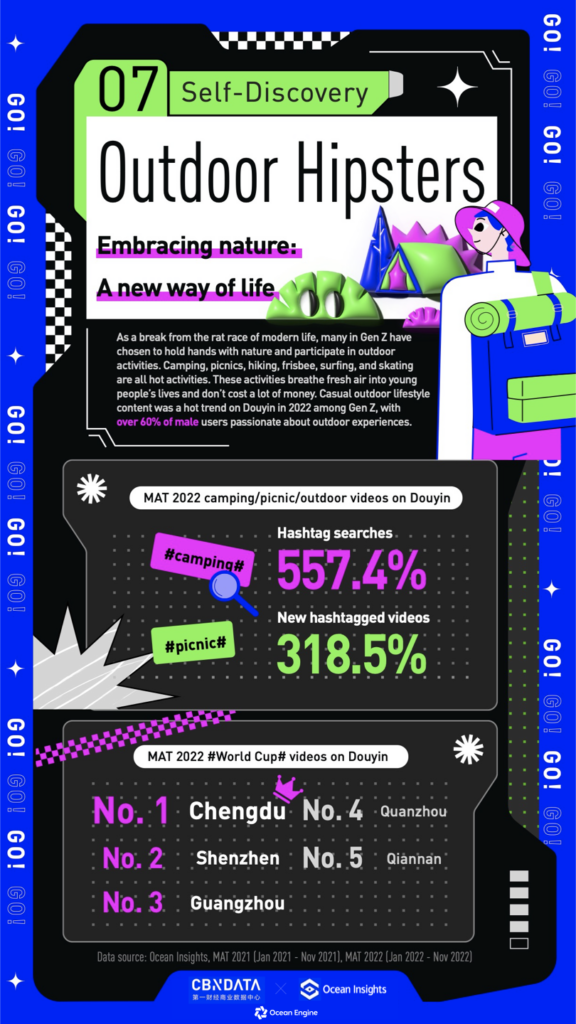 8: Eco-Friendly Dressers
Gen Z fashion is a hot topic and 2022 saw the return of the "capsule wardrobe". The idea emerged in the 1970s after it was proposed by Susie Faux, the owner of a store in London called Wardrobe. Her idea was to organize your wardrobe like a capsule, leaving some classic must-have outfits combined with ample space for new arrivals.
In 2022, the concept struck a cord again with Gen Z fashion circles in China as new video content in this subcategory grew 264.9%. The popular Douyin hashtags "capsule wardrobe" and "what to wear today?" also grew by 232.6% and 152.9%, respectively.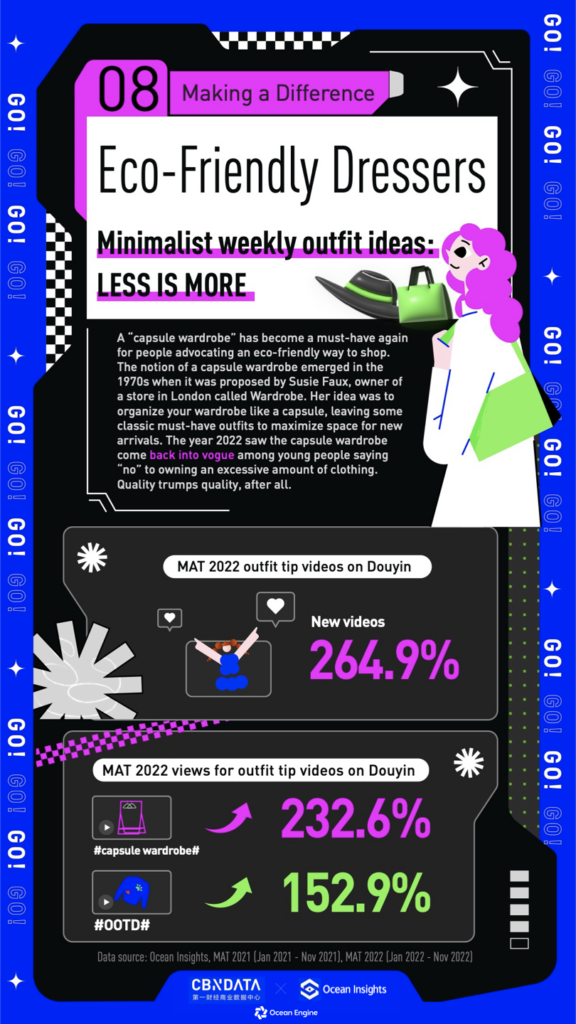 9: Workplace Reformists
In 2022, a large number of Generation Z entered the workplace for the first time. With problems such as unpaid overtime and office bullying rampant in the workplace, some young employees decided to speak up and demand their bosses fix the toxic culture affecting employees.
In 2022, the popularity of topics such as anti-conformist work culture grew rapidly with the proportion of male and female users evenly spread. Search terms for related content shot up by 2735.5%, with new content rising 917.8% in 2022. The top representatives in order were Guangzhou, Beijing, Chengdu, Chongqing, and Shanghai.
Workplace topics will continue to be a hot trend in China among Gen Z users in 2023.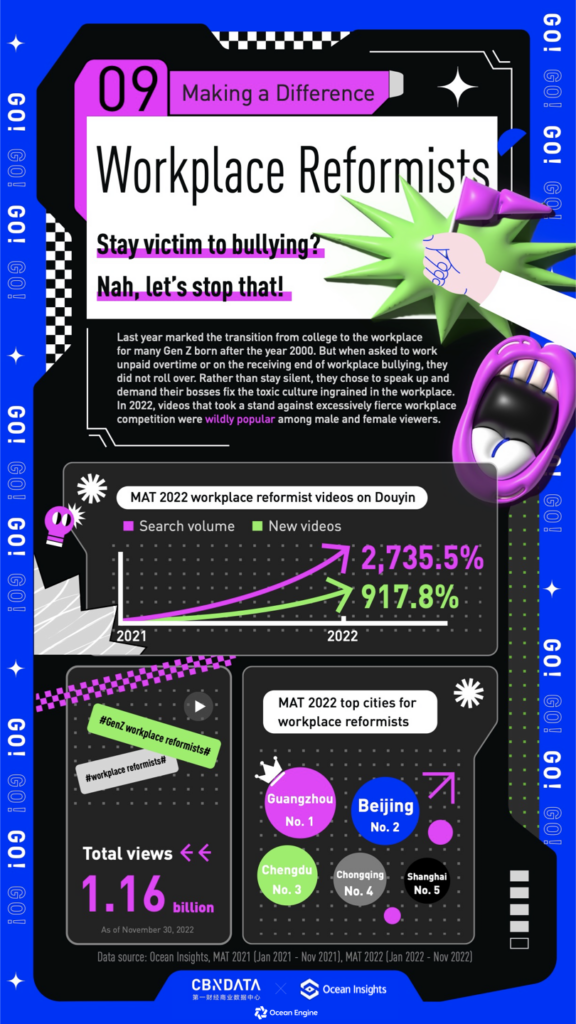 10: Retire Early Crowd
Tired of the cut-throat competition but still reluctant to quit their jobs, Gen Z wants to retire early. Topics such as "pension" and "retirement" found a new audience among a generation that seems too young to be thinking about it.
Users from emerging first-tier cities as well as second and third-tier cities were concerned about planning their future retirement, accounting for over 60% of all category users. The hashtags #retire young# and #early retirement# were among the hottest keywords for 2022.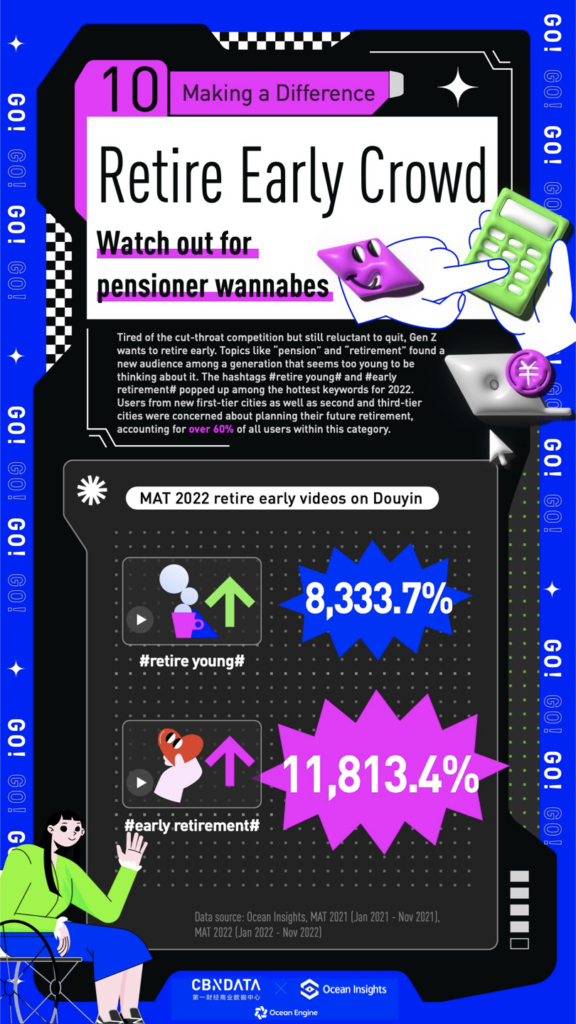 How to Access Gen Z Trends in China
As a diverse cohort of users, Gen Z is a tricky audience to engage online without a proper strategy and precise user targeting.
For your video content and ads to reach your intended audience, you might like to explore setting up ad campaigns using hashtags, demographics, geographic locations, and user characteristics mentioned in this post.
To learn more about targeting specific user audience groups in China and how to drive traffic to your e-commerce channels,
Ocean Engine
offers a range of marketing and advertising solutions across Douyin, Toutiao, and other popular apps in China.