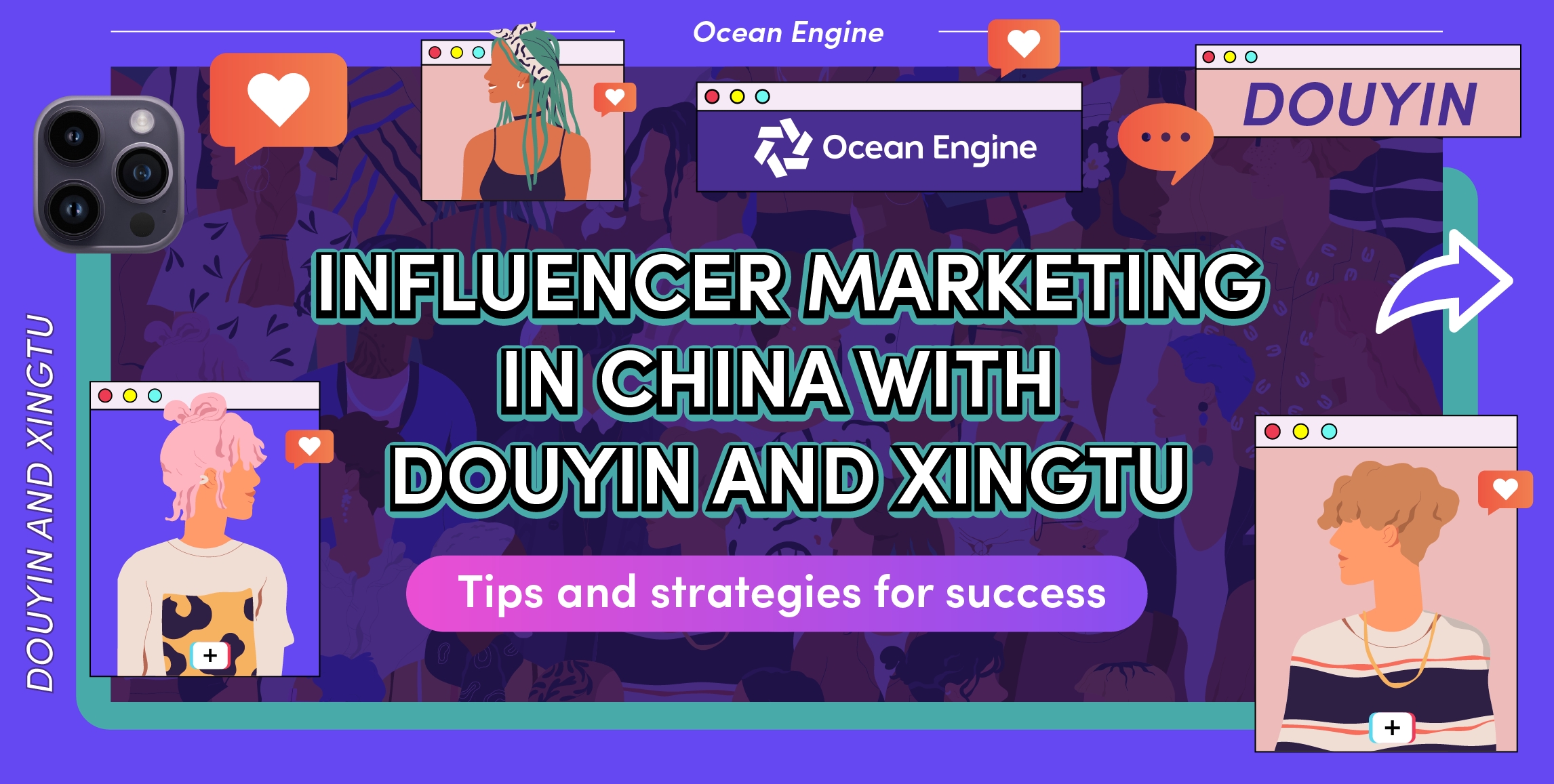 China Influencer Marketing with Douyin and Xingtu
May 31, 2023
13 mins read
In today's digital age, social media is a powerful tool for brands to reach, build, and scale an audience, and one of the fastest-growing social media platforms on the planet is Douyin.
As the leader in short-video content, downloads of the Douyin app have exploded in recent years, especially in urban areas, including tier-1 and tier-2 cities, with over 600 million users throughout China. Part of Douyin's success is that everyone can be a creator and build influence on the platform. From fashion to beauty, to gaming and travel, Douyin creators can build their own communities, shape consumer trends, and cash in on their popularity to promote their favorite products.
Not wanting to miss out, brands are tapping into the flourishing creator network to reach a wider audience, promote products, improve conversions, and leverage influencer marketing in China as part of their overall sales strategy.
So, if you're a brand looking to tap into this lucrative market or a creator looking to expand your reach, this guide is for you. Here, we'll explore the growth of influencer marketing on Douyin, discuss its benefits, and provide tips and best practices for brands and creators to succeed in this dynamic space, including how to match up with the right creator or brand. So, let's dive in!
The unavoidable growth of influencer marketing on Douyin
With the rise of short-form video content and livestream events, Douyin has become a popular platform for creators and influencers (aka. KOLs – key opinion leaders) to partner with brands using a variety of formats including short-form video, live shopping shows, Branded Missions, and game streaming promotions.
With their ability to create authentic and relatable content that resonates with their followers, creators on Douyin help to increase engagement and ultimately drive more sales for the brands they represent.
While other social platforms play a role in driving sales through influencer marketing, Douyin is renowned as the most trusted platform for online shoppers. Creators on Douyin have a close relationship with their audience, which translates into increased trust and credibility for the brands they promote. Not surprisingly, brands are increasing their budget on influencer endorsements on Douyin.
The phrase "as seen on Douyin" has now become the advertising industry's new "as seen on TV," with KOL marketing doubling between 2018 and 2021. Recognizing the platform's potential to drive sales and reach a more engaged demographic, 70% of surveyed Douyin advertisers said they are willing to increase their budget on KOL marketing in 2023.
Maximizing impact: The role of influencer marketing at every stage of the user journey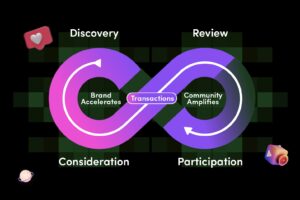 On Douyin, influencer marketing is woven into the fabric of the user experience, which is evident in the four phases of the platform: discovery, consideration, review, and participation.
Discovery: In the discovery phase, Douyin's state-of-the-art interest-based algorithm helps users explore and find content that matches their interests.
Consideration: In the consideration phase, creators and influencers make recommendations to spread the word and motivate users to purchase, which is pivotal for converting other users. According to a joint Ocean Engine-Kantar study, 21% of surveyed users watch a video and 15% watch a livestream before making a purchasing decision, outweighing key selling points (15%), reading an article (12%), and friend's advice (9%).
Review: The review phase is characterized by users leaving feedback and sharing their experiences on Douyin. Users may also post brand-related content or mention brands and showcase their recent purchases on Douyin. These actions help to drive sales and conversions for brands.
Participation:

Finally, in the participation phase, users join the community conversation and participate in an immersive shopping experience. They create tutorials related to their recent purchases, share feedback, and engage with other users to build relationships and foster brand loyalty.

Together, these four phases have the potential to transform consumers into brand influencers and drive significant business growth for brands looking to tap into the platform's vast creator pool.
3 types of Douyin Influencers in China and how brands can work with them
Influencer marketing in China encompasses a diverse landscape that can be categorized into three primary roles: mainstream influencers, vertical influencers, and brand ambassadors. Each role plays a distinct and significant part in shaping the influencer marketing ecosystem.
Mainstream influencers
Mainstream influencers have a broad appeal and endorse a wide range of products and services, such as Papi Jiang and other well-known Douyin celebrities. Papi, an actress and comedy producer on Douyin, with over 30 million subscribers, infuses humor into her content and has become a household name in China's influencer marketing scene.
Vertical influencers
Vertical influencers focus on specific topics or niches, such as fashion, beauty, or gaming. They may have a smaller following, but their audience is highly engaged and passionate about their content. An example of a popular vertical influencer on Douyin is Becky Li (known also as the "BuyBuyBuy Goddess") who is a fashion influencer with over 10 million followers and who regularly posts about the latest fashion trends and styles.
Brand ambassadors
Lastly, brand ambassadors are influencers who have a close relationship with a particular brand or product, and regularly promote and endorse it to their followers. They may receive exclusive access to new products, events, or collaborations with the brand. Brand ambassadors often start out as mainstream or vertical influencers but are motivated to maintain a long-term relationship with a brand.
One example is Ding Zhen, whose quick, 7-second, casually shot Douyin video received millions of likes overnight. A week after it first became popular, the creator received and accepted an offer from the local government to take on a role as a tourism ambassador of Litang County in Sichuan province.
How to find the right influencers for your brand
1) Xingtu
One of the best ways for brands to engage influencers on the Douyin platform is to use a dedicated service such as Xingtu. As a partner service platform provided by Ocean Engine, Xingtu offers invaluable guidance and support to influencers throughout their entire journey, ensuring mutual success for all participants within the ecosystem. In total, the service offers access to over 1,500 MCNs (multi-channel networks), 2 million available influencers, 1.9 million brands and clients, as well as more than 1,000 agencies and service providers.
At Xingtu, influencer development takes center stage. Through strategic guidance, tailored programs, mentorship opportunities, and other resources, Xingtu empowers influencers to enhance their skills, expand their reach, and cultivate a loyal audience.
Secondly, Xingtu believes in the power of collaborative partnerships. By fostering win-win collaborations between influencers, brands, and marketers, the platform creates synergistic partnerships that drive mutual growth and success. This includes facilitating strategic connections, negotiating fair partnerships, and fostering a vibrant ecosystem where all stakeholders can thrive together.
Thirdly, the platform constantly pushes the boundaries of marketing strategies and techniques, leveraging cutting-edge technologies and trends. By staying ahead of the curve, Xingtu empowers influencers and marketers with the tools and insights needed to stand out in an ever-evolving digital landscape.
2) Content solution packages
The second key channel to collaborate with creators on Douyin is to utilize native content solution packages widely available on the platform. These packages allow advertisers to procure Branded Hashtag Challenges, Mission for All series, or other sponsorship packages that include or attract influencer resources and support.
The Mission for All series, for example, invites creators to participate in brand messaging by incentivizing talented creators to produce on-brand videos by offering immediate rewards. Brands can also guide the quality and relevance of the created content to better fulfill their promotional goals.
Each content package can be further customized with event page privileges, paid ads, influencer matching, and so on, to maximize impact and drive sales to a Douyin Liteshop, which provides a spot for consumers to browse, shop, and repurchase.
Tips for finding the right influencers for your brand
When selecting influencers, it's crucial to make wise choices. Indiscriminately casting a wide net without a solid foundation will only lead to a waste of resources, much like watching a rootless water plant drift across the pond aimlessly.
The first and most obvious consideration should always be based on the brand's marketing goals and needs. However, there are also other important angles to consider.
Data insights
Prioritizing the use of data and tools is essential. Just as in any marketing endeavor, influencer marketing thrives on data-driven insights. Which vertical influencers have gained the most followers in the past month? Who are the top 10 influencers in terms of sales in your niche and which time of day sees the highest conversion rates?
Answers to such questions lie in leveraging data and utilizing appropriate tools. By delving into relevant data, influencers can be assigned more refined labels, thus maximizing the efficiency of brand-influencer collaborations.
Content synergy
Next, it's crucial to ensure that your brand aligns with the creator's native content. This approach helps seamlessly integrate your product recommendation into the creator's channel, making it feel more organic and authentic. Equally important is creating compelling content. Creators possess an innate understanding of their fans' preferences.
Therefore, brands should avoid the "client knows best" mindset, dictating what content creators should produce. Instead, it is crucial to trust creators' creative abilities and provide them ample flexibility to collaboratively craft content that resonates with fans. This approach fosters a genuine connection and cultivates a deep affinity between the brand, the creator, and the audience.
Local creators
For international brands venturing into the Chinese market, it's also important to consider partnering with local Douyin creators who have established traffic and a proven track record of success on the platform.
These creators possess an influential voice and can significantly contribute to making your brand more accessible and appealing to local audiences. Their deep understanding of the local market and cultural nuances can also help bridge the gap and establish a stronger connection with the target audience.
Top content practices for influencer marketing on Douyin
By implementing the following top content practices, brands and influencers can effectively leverage Douyin to connect with the platform's vibrant community, maximize audience reach, and drive desired user actions.
Creative freedom: Provide creators with creative freedom to match their content with brand endorsements, i.e. unscripted unboxing videos, video mixing and editing.

Structure for short videos: Highlight product benefits in 1 or 2 key points, reveal the brand after the first 6 seconds, and show products for less than half the time (to keep users at ease).

Promo codes: Leverage creator promo codes for amplified user benefits and precise KOL conversion measurement.

Backlinks: Use creators and KOLs' home pages and external sites to reach more fans and target high-interest groups via backlinks and cross-promotions.

Shopping holidays: Launching your marketing campaigns around major shopping holidays such as Double 11, Double 12, 618, and Chinese New Year is an ideal way to quickly scale up traffic and attract a massive supply of potential consumers.

Livestreams: Livestream events are unmatched when it comes to building trust, maximizing conversions, and driving sales.
Boost KOL marketing performance with paid advertising
Paid advertising can significantly enhance the effectiveness of KOL marketing campaigns by leveraging the positive correlation between organic traffic and key metrics such as video views, completion rates, and ad engagement rates. Put simply, the more organic traffic, the better the ad performance.
Organic traffic, however, typically has a limited lifespan of around 72 hours. To prolong the impact of native content and maximize visibility, it is therefore essential to supplement organic traffic with paid traffic. By using paid traffic, brands can amplify the impact of native content, extend its visibility, and ensure that high-quality content continues to generate engagement and user actions beyond the initial organic traffic period. It also provides an opportunity to target specific demographics, interests, or locations to improve the precision of your KOL marketing campaigns.
Timing plays a crucial role in optimizing the effectiveness of paid advertising for KOL marketing. It is recommended to utilize Native Ads on the 4th and 5th day after posting a native video. This timing has been observed to yield high completion rates, likes, and engagement rates. By strategically aligning the release of native ads with optimal timing, brands can maximize the impact of KOL marketing campaigns and achieve better results in terms of user engagement, brand exposure, and conversions.
Tracking and measuring KOL marketing campaign performance
To effectively track and measure the performance of KOL marketing campaigns, it's important to test some of the following strategies. By implementing these strategies and focusing on data analysis, conducting creative testing, and audience testing, brands can track and measure the performance of KOL marketing campaigns more accurately.
Data mining for new marketing angles:
To identify new marketing angles and strategies based on data analysis, it's important to mine data and evaluate creatives based on key metrics, including ROI, click-through rate, views, interactions, and CVR. Using these metrics will help you to measure your return on investment, influencer value, attraction, and overall conversion of the KOL campaign.
Testing for creative optimization
To find the best communication angle that resonates with your target audience, it's important to deconstruct core video elements (i.e. real-person demonstrations, KOL endorsements, key ingredients/advantages, and address pain points within the first 3 seconds of videos) and then filter these elements to optimize the effectiveness of your campaign.
Audience testing for targeted messaging
To ensure the campaign resonates with the target audience effectively, it's important to test different audience segments for their response to conversion and selling points. This includes evaluating selling-points such as effectiveness, innovation, attractive packaging, value for money, and scenario-based demonstrations before tailoring your messaging and offerings to specific audience preferences.
Learn more about influencer marketing in China
With the right KOL marketing strategy and a touch of creativity, Douyin has the potential to revolutionize brand success, irrespective of the brand's size and current follower count.
To learn more about Ocean Engine and our partner service provider, Xingtu, including onboarding and specific KOL marketing advice for China, please feel free to reach out to us via the
Contact Us form
on our website.