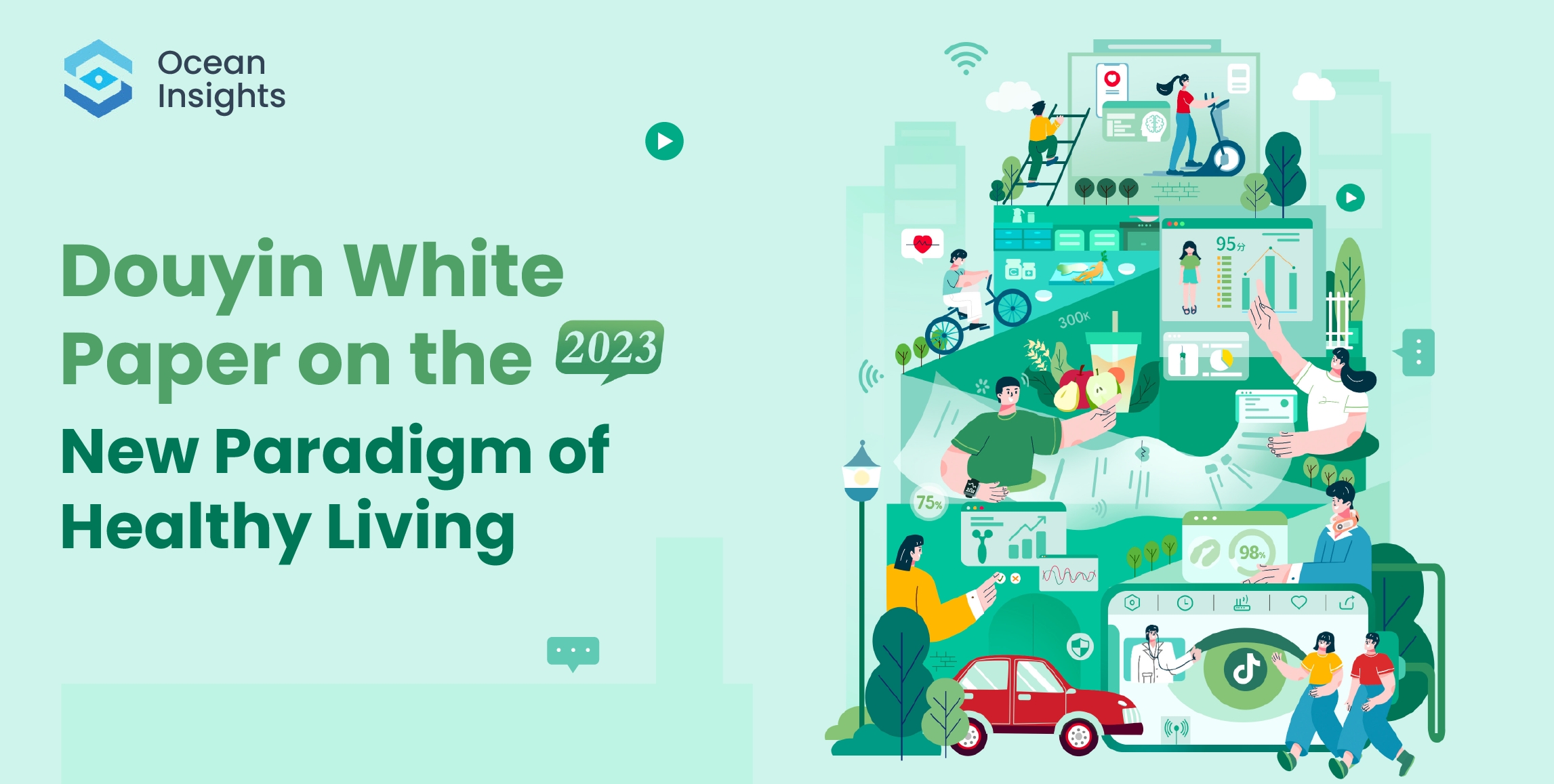 Trends Focus: Douyin Data on China's New Paradigm of healthy living
The idea and trend of proactive health management is gaining traction in China as more people recognize health as an indispensable indicator of a happy life. This recent shift is being further propelled by national strategic efforts aimed at bolstering citizens' capacity to maintain their healthy living, including the Healthy China 2030 initiative, a national blueprint launched in 2015 to promote the development of a healthy China.
Monitoring these crucial changes and advancements in the healthy lifestyle sector, Ocean Insights' 2023 Douyin White Paper on the New Paradigm of Healthy Living delves into the digital trends shaping healthy lifestyles in China including the three key categories of online users.
This includes theorists who show a proactive attitude toward acquiring health knowledge, action-takers who are willing to try various healthy diets, sports, fitness regimes, and technological products, and sharers who are happy to share their experiences and insights online.
Read on to learn the preferences of these user groups and the 3 popular principles people in China adhere to in pursuing a healthy lifestyle.
The rapid rise of health awareness in China
Health literacy is an important determinant of health and China's overall literacy in relation to health has been steadily improving since the implementation of the Healthy China 2030 initiative in 2015. Notably, overall health literacy among Chinese residents achieved the largest year-over-year increase in recorded history during the onset of the COVID-19 pandemic in 2020 and continued to show steady improvement in 2021.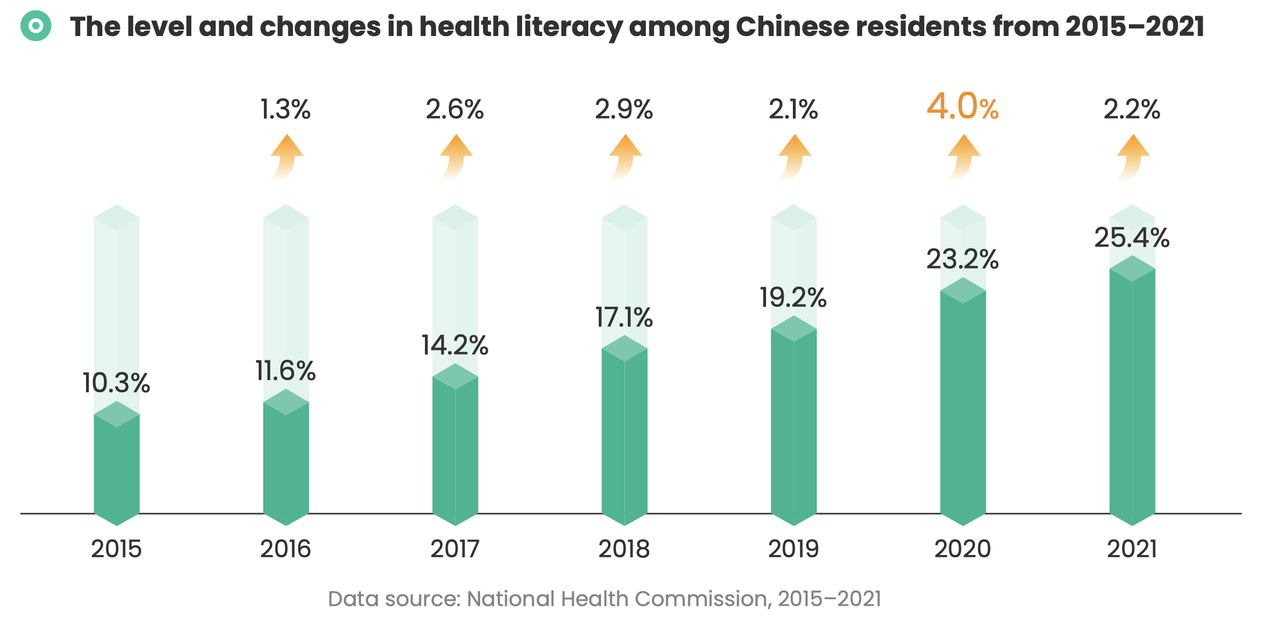 According to statistics from the National Health Commission, the health literacy of Chinese residents is steadily improving across three indicators: basic health knowledge and concepts, healthy lifestyles and behaviors, and basic skills. Compared to data from 2015, there has also been significant growth in basic health knowledge and concepts, as well as healthy lifestyles and behaviors.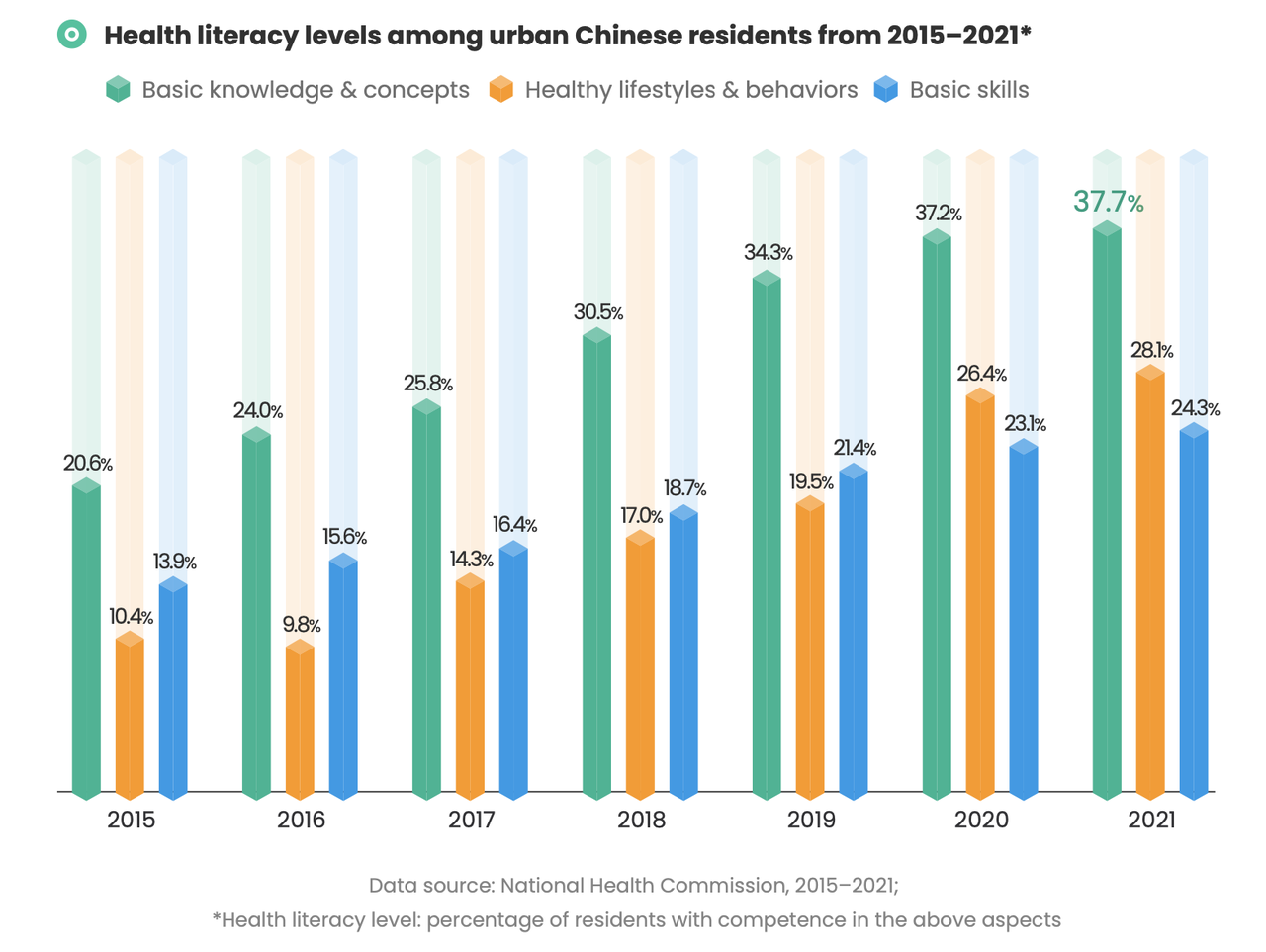 Common health living concerns among Chinese users
While overall health knowledge is on the rise, there is still room for improvement and wider understanding. According to Ocean Insights' survey data, 87% of users are still concerned about their own health condition.
According to the survey, users under the age of 40 are most concerned about their quality of sleep, physique, and mental health, while users above the age of 40 are paying more attention to chronic and geriatric diseases. In addition, occupational disease anxiety is more concentrated among people aged 24 to 40.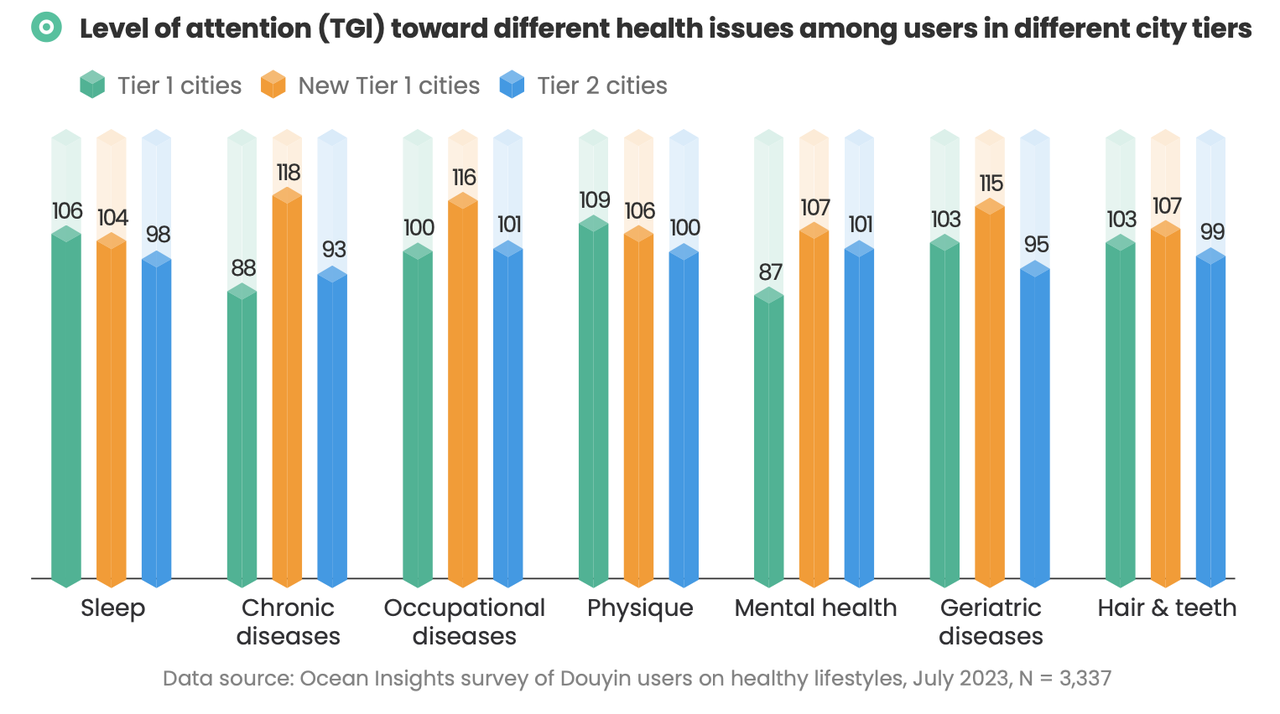 Alongside a strong interest in men's health, male users pay strong attention to occupational and geriatric diseases. Female users, meanwhile, exhibit a very strong preference for women's health and are particularly interested in physique, hair and teeth, and mental health.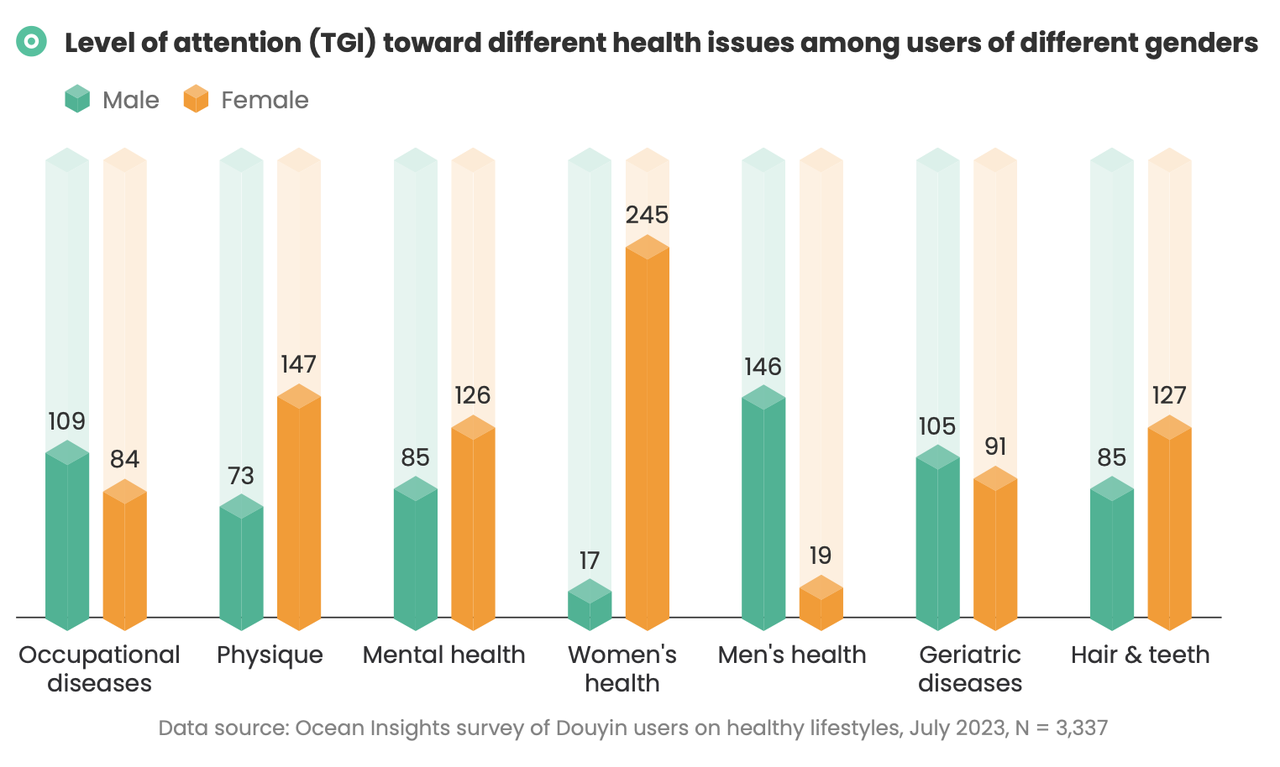 Short videos lead as the source of information
According to the Ocean Insights survey, 42% of users believe that the first step toward maintaining or achieving a better state of health starts with a solid theoretical foundation (in relation to health).
When it comes to acquiring health knowledge, most users prefer to obtain relevant information through active search and subscription/push notification channels. In addition, 75% of surveyed users said they take the initiative to actively search for health knowledge and information that interests them.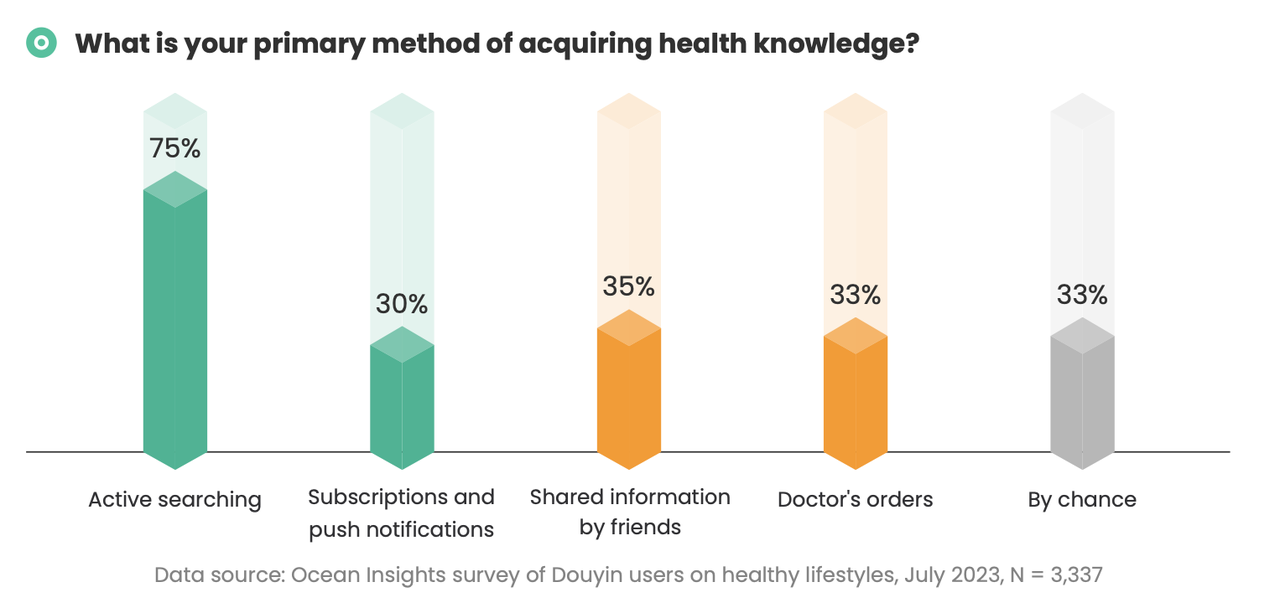 For these users, short videos have emerged as the go-to source for health information, with 79% of surveyed users confirming this medium as their current source of information for health-related knowledge. Besides short videos, information shared by friends and search engines are the other two primary channels for users to obtain knowledge.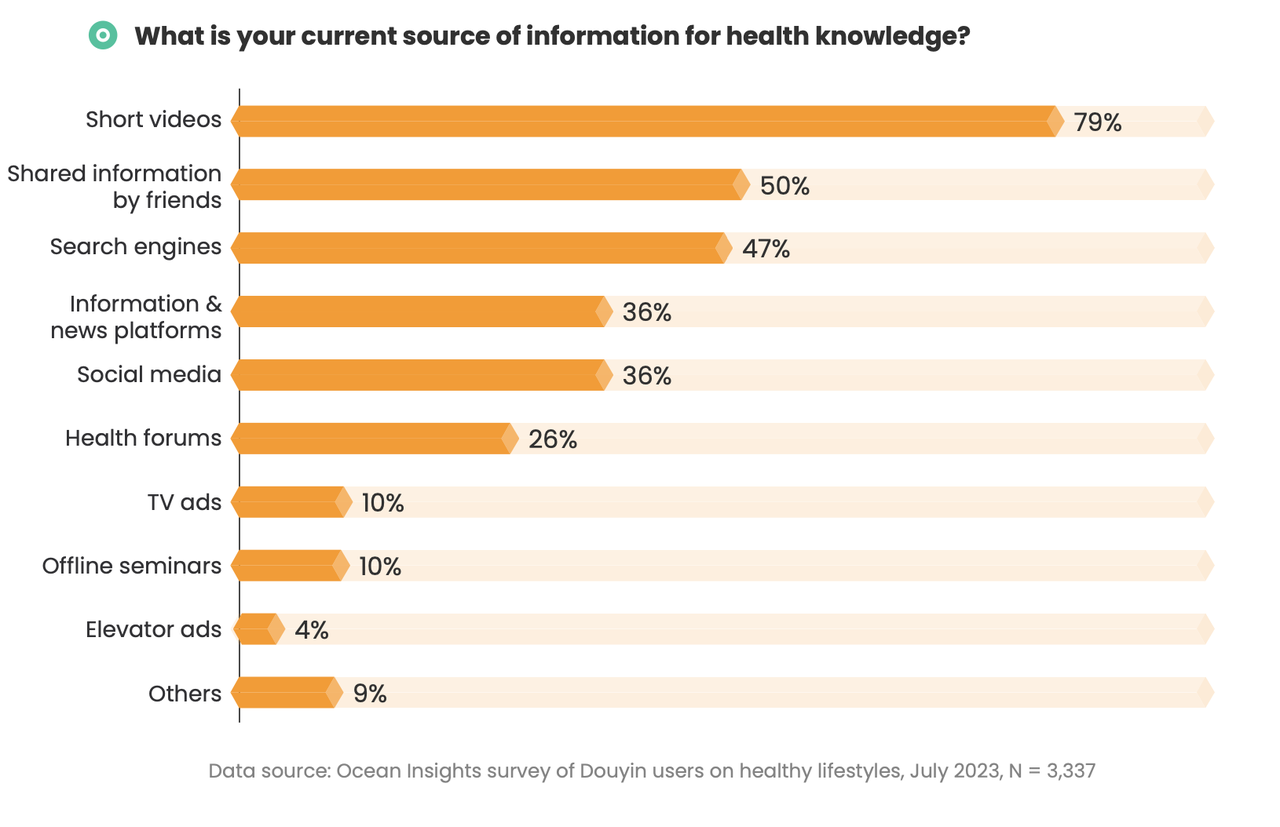 Among the various domains of health knowledge, Ocean Insights found that users are most interested in educational introductions of medical institutions, followed by general health knowledge and educational content about various diseases. The content category with the highest user interest and viewership is non-disease-related health and wellness topics.
The survey data showed that when it comes to improving health literacy, users are more inclined to focus on acquiring general health knowledge related to their daily lives, such as fitness, diets, and sleep. This suggests that the concept of health management in China is shifting its focus more from "treatment" to "prevention".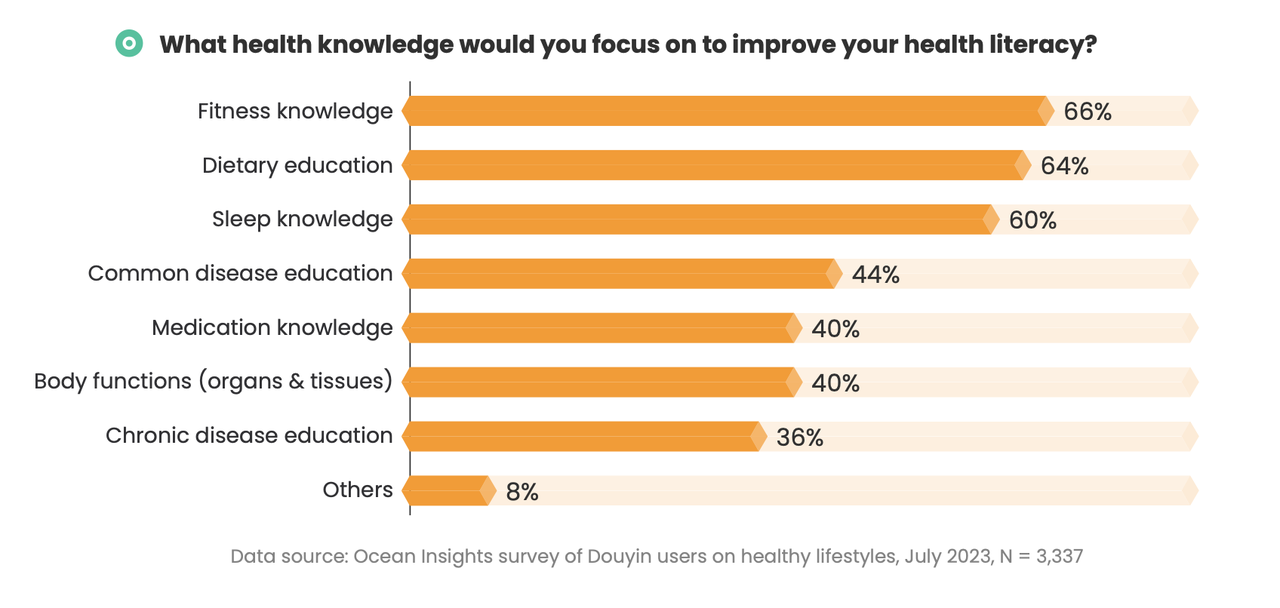 Explosion in healthy living related content on Douyin
In response to the diverse content demands of users, content about medical and health knowledge on popular video sharing apps such as Douyin is exploding. According to statistics, over 10 million content creators posted medical and health knowledge in the first half of 2023. In June 2023 alone, content related to medical and health topics on Douyin received more than 100 million likes from users. This includes content related to disease education, medical institutions, and general health knowledge.
In addition to extensive user-generated content, professional influencers and brands are actively cultivating their presence on Douyin. Professional healthcare workers, for instance, have been leveraging their expertise to educate the public about less widely known medical facts as well as facilitating the distribution of essential knowledge. In regards to brands, over 40,000 nutraceutical brands have joined Douyin.
While content about medical and health education on Douyin still mainly consists of short videos (less than 1 minute), Ocean Insights has found that users tend to prefer longer and more informative medium-length videos (more than 1 minute) when it comes to content regarding health education.
Users take a multi-faceted approach to staying health
When it comes to taking action, the research shows that most users prefer to adopt a multi-faceted approach to staying healthy that extends beyond knowledge accumulation.
For these users, achieving a state of health extends to a healthy diet (44%), incorporating exercise into daily life (47%), and conducting real-time or regular health monitoring (24%). Optimizing one's living environment through the assistance of healthcare appliances and home wellness appliances is less popular but holds potential as the healthy lifestyle market continues to develop.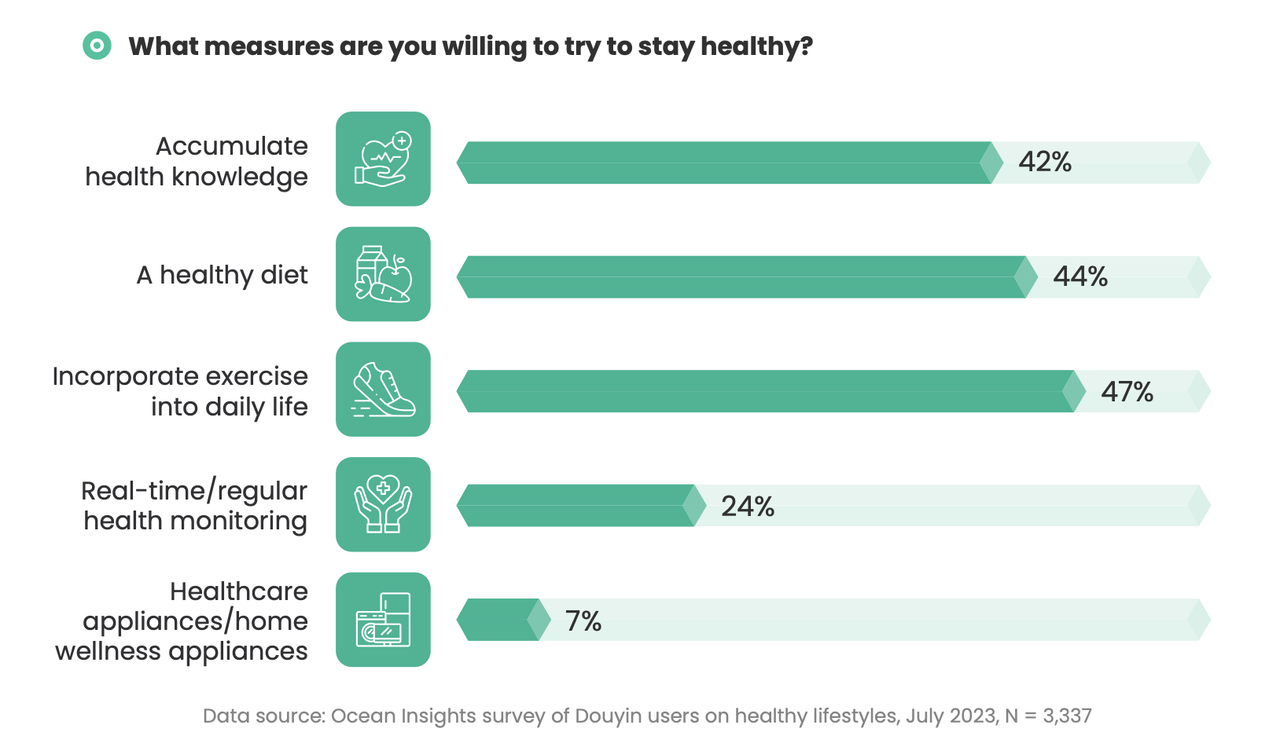 To gain a deeper understanding of how people approach their goal of staying healthy and influencing those in their social circle, we can further subdivide users into 3 distinct groups: theorists, action-takers, and sharers.
Theorists
Convinced that health management starts with knowledge accumulation, theorists exhibit a strong preference for acquiring health knowledge. Among this audience group, users with a higher level of education are more willing to pay for health-related knowledge, with users holding a college or university degree demonstrating the most willingness to pay for health knowledge.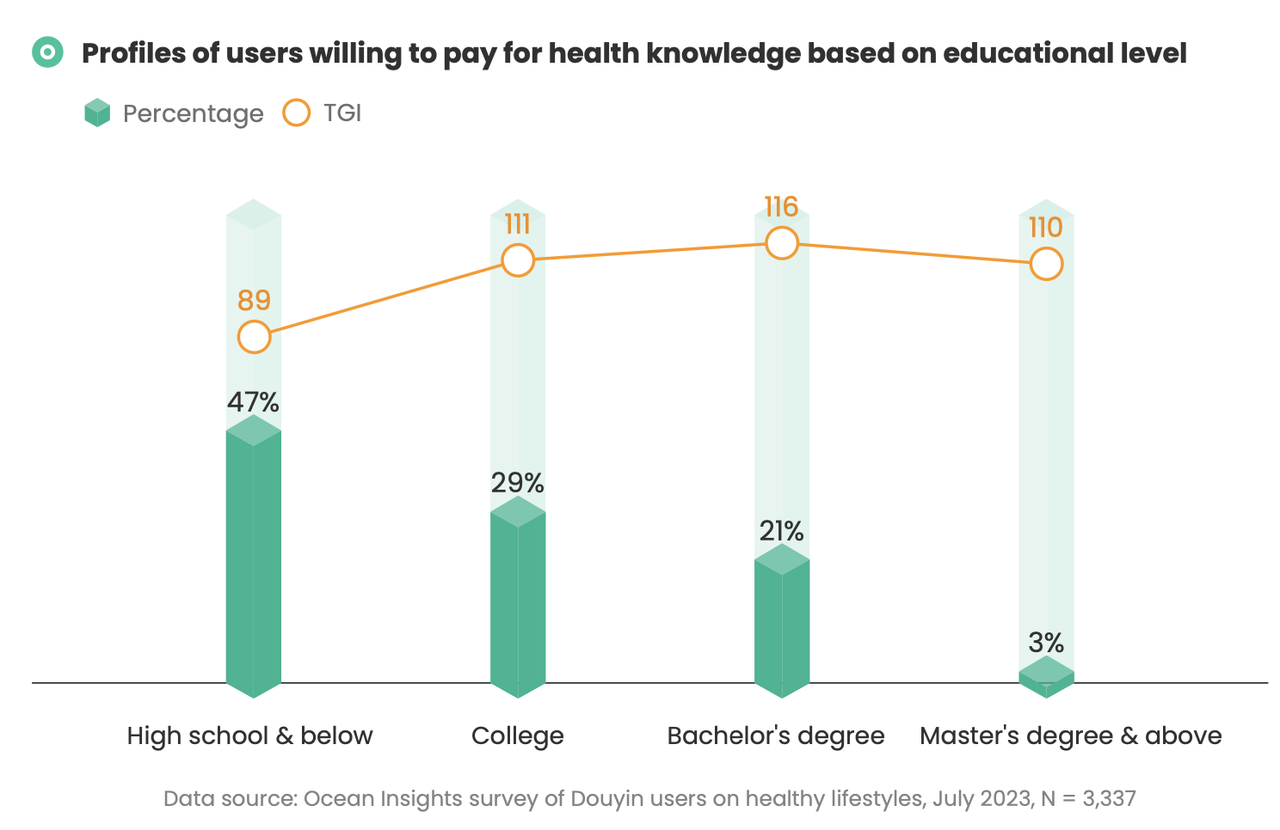 Action-takers
Among the 3 categories, action-takers exhibit the greatest enthusiasm for sports, exercise, and fitness activities. The survey data also highlights their strong interest in daily diets.

Sharers
Sharers, meanwhile, tend to be older users who enjoy sharing medical and fitness-related content and younger users who prefer creating content about diets and technology-assisted wellness to share with a larger audience.
Creators advocating and sharing medical and health content are mostly aged above 40 in New Tier 1, Tier 3, and Tier 4 cities.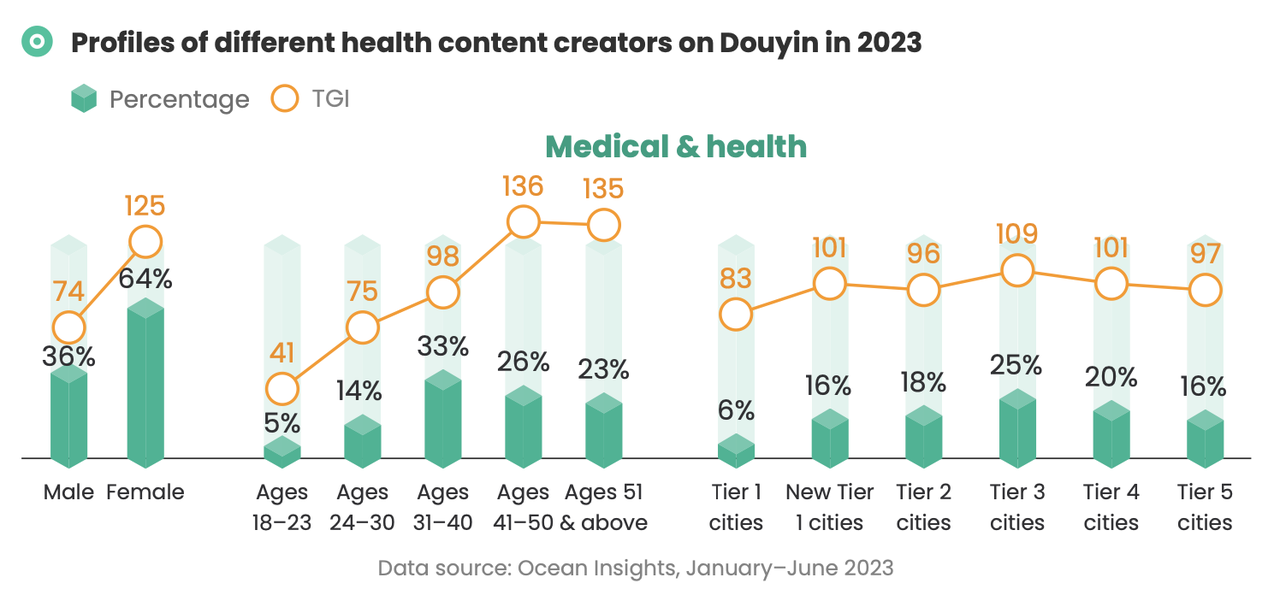 Conversely, content creators related to healthy diets represent a younger demographic and are mostly from higher-tier cities in China. It's also important to highlight that female creators are well-represented across both content categories.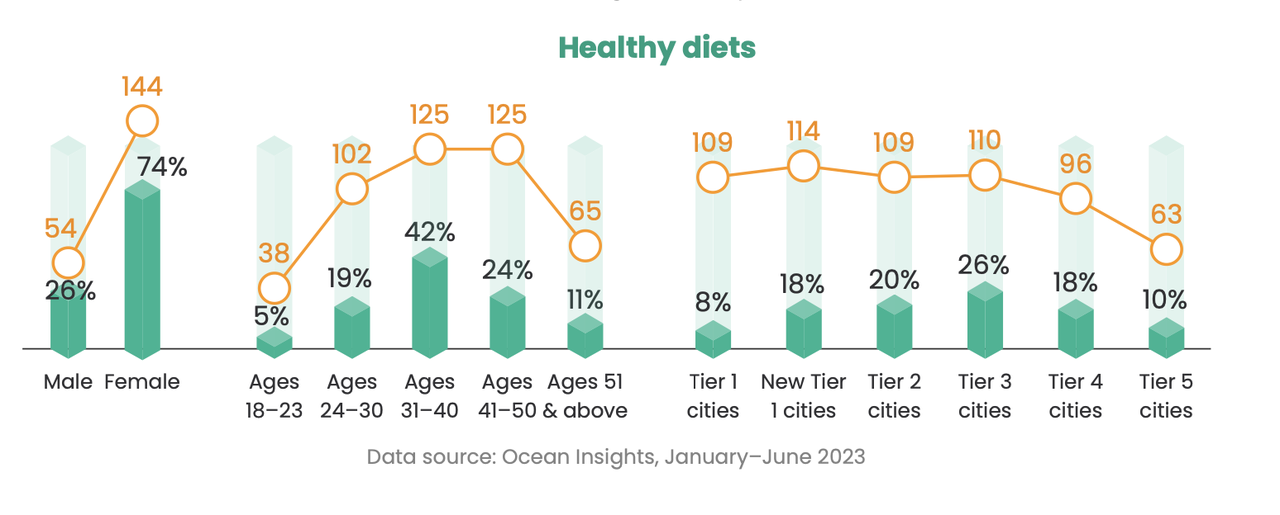 3 ways Chinese citizens take action
Having looked at the different types of health-conscious users in China, including their concerns and preferences for health-related information, it's also important to understand the 3 most popular approaches to pursuing a healthy lifestyle and the opportunities that these 3 trends offer.
1) A healthy lifestyle starts with a healthy diet
The importance of dietary habits in China is well known but what constitutes a healthy diet also varies among individuals across different life stages and age groups. As people age, for example, their preferences for healthy eating gradually shift from daily food and drink choices to additional nutritional supplements. Conversely, users aged 24–30 are more willing to try different healthy eating diets.
According to the data, recent trends in the healthy diet category include organic and healthy ingredients, balanced nutritional combinations, and more scientific and healthy cooking methods.

Based on the keyword distribution of Douyin's top healthy diet-related products in 2023, we can also see that "meal replacement", "healthy", "low fat", and "high protein" are popular dietary trends.

2) Incorporating exercise into daily life
While not everyone can establish a regular fitness routine due to busy work and family commitments, an increasing number of users are starting to adopt practices to secure long-term physical health. The survey data from Ocean Insights shows that 86% of users report having a habit of exercising and working out.
Interest in exercise and sports related content is also growing. The most popular sports categories viewed on Douyin include basketball and soccer, while lure fishing, fishing, racing, rowing, diving, triathlon, kayaking, surfing, badminton, and cycling all recorded strong growth in popularity in the first half of 2023.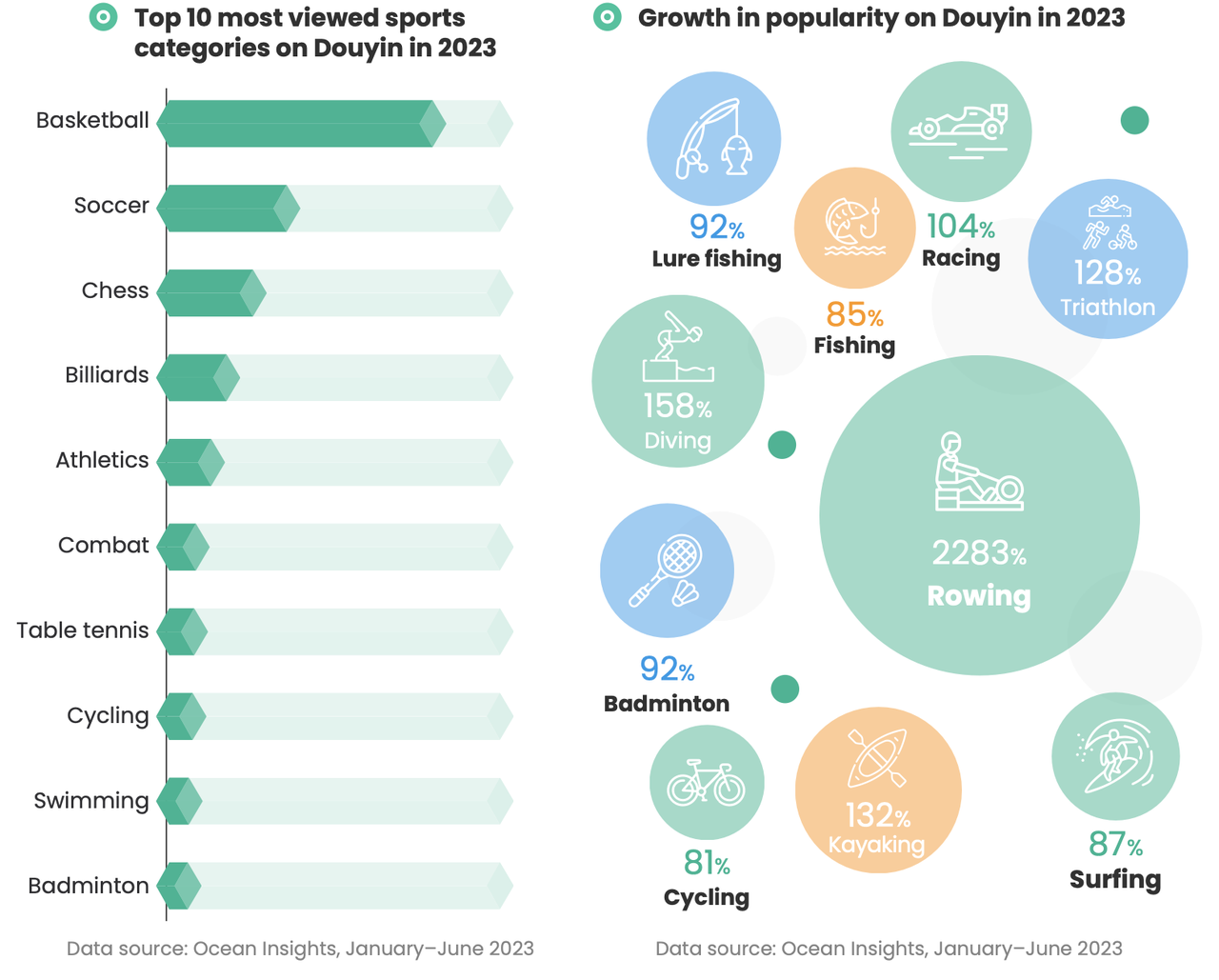 3) Technology-enhanced health management
As a clear sign that residents in China are paying increasing attention to their own health, the habit of regular health checkups and the integration of technology-enhanced health management are both well-established.
The China Health and Hygiene Statistical Yearbook 2022, published by the National Health Commission, reveals that the number of health checkups conducted in medical and healthcare institutions in China reached 550 million in 2021. With an average of 1 checkup per person per year, the penetration rate for health checkups is 38.8%.
Secondly, as the healthy lifestyle industry continues to undergo technological optimizations and innovations, smart technology is increasingly being integrated into consumer-grade monitoring devices. This includes smart wearable devices offering health monitoring capabilities that have opened up new possibilities for health management. In addition, the application of sports and health-sensing technology has also played a crucial role in driving demand in the smart wearable market.
A glimpse into the future of China's healthy living revolution
As health literacy in China continues to improve, people are expected to live longer while aspiring to enjoy a higher quality of life in the future. In fact, over the past 4 decades (1981–2021), the average life expectancy in China has risen from 67.8 years to 78.2 years, an average increase of 1 year every 4 years, with the average life expectancy of urban residents already exceeding 80 years.
Behind the steady rise in life expectancy lies strong progress and development in relation to medical conditions, nutrition, healthcare, and the well-being of residents in terms of their material, mental, and psychological well-being.
With the growth of content platforms such as Douyin, the general population in China will also continue to hear more voices willing to express their thoughts and experiences regarding healthy living. These platforms facilitate the dissemination of an even broader range of healthy living concepts, raising awareness about both physical and mental health management among a wider audience.
To gain a deeper understanding of the changing landscape in health and wellness in China, we strongly recommend downloading and reviewing the Ocean Insights whitepaper. Filled with deep insights and survey analysis, the 2023 Douyin White Paper on the New Paradigm of Healthy Living covers the latest industry trends in greater depth.