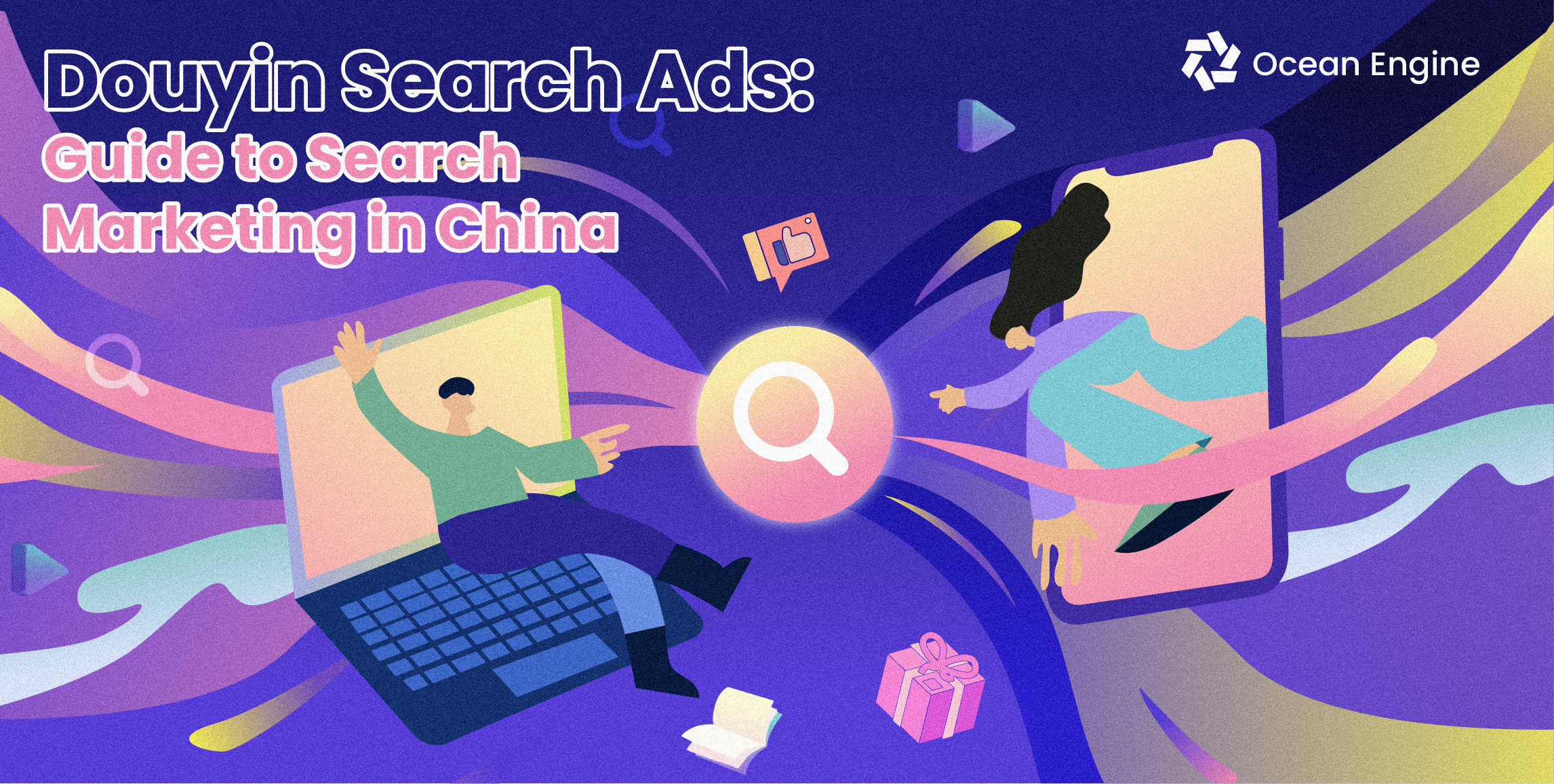 Douyin Search Ads: China's Hottest Social and Video Search Engine
In an age where digital consumption patterns are increasingly centered around short, snackable content, the rise of Douyin is transforming how people in China discover content and how businesses engage in search marketing. While recommended videos are a primary method of content discovery, users on Douyin still have a natural urge and need for direct search, which is where the new role of Douyin as a social search engine comes into the equation.
Following the app's meteoric rise, Douyin understood that it needed to incorporate a search function and they added this feature as early as 2018. Since then, Douyin has added an array of search engine features and search ads on Douyin have continued to gain traction with brands and advertisers alike.
In this post, we will illuminate the essentials of how Douyin search ads operate, provide tips on search ad creation, and how to optimize your ads using the powerful advertising platform, Ocean Engine.
Search video ads: The new opportunity for advertisers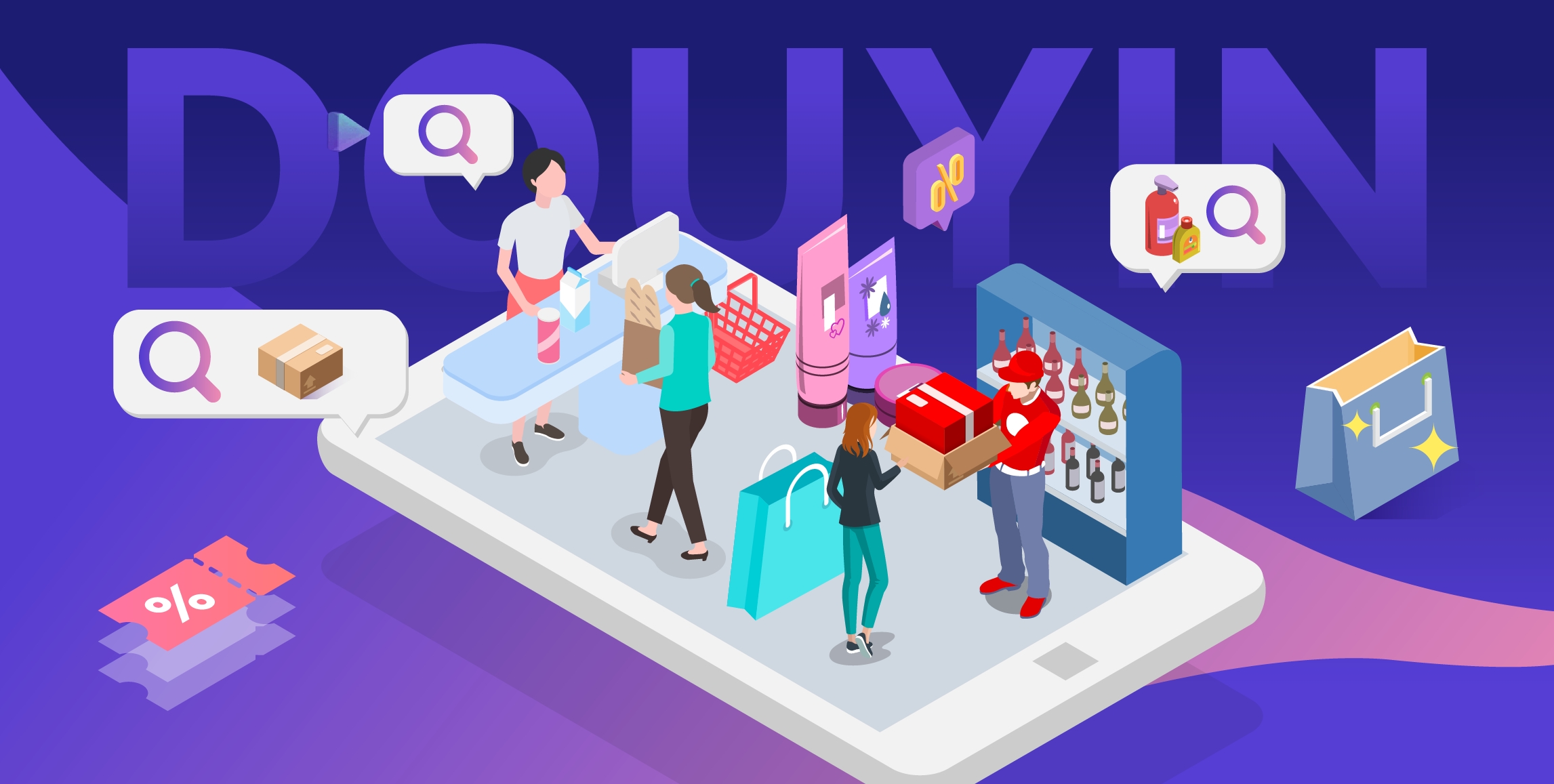 Douyin's advanced search capabilities have firmly established video search engine marketing as a standard practice for brands in China. No longer confined to static text-based ads on a traditional search engine, advertisers can now leverage the dynamic and interactive nature of Douyin's video and livestreaming platform.
In its role as a video search engine, Douyin presents ads in a dynamic, engaging format that resonates with today's digital consumer. These ads aren't just more engaging, they're also incredibly targeted thanks to fine-grained marketing tools and audience segmentation on the backend.
When people search for content, Douyin provides not just search results but also related video results and a "People also searched" section. These new features offer opportunities for search marketing as search ads appear in related searches or alongside relevant content, dramatically improving visibility and potential conversion rates.
Search ads on Douyin also tap into the power of social engagement. The addition of top comments from videos in search results allows end-users to see immediate social proof, which can impact decision-making and further boost the effectiveness of search ads.
These built-in benefits help advertisers to achieve their advertising objectives, whether that's to increase brand visibility, drive user engagement to their Douyin channel (including videos and livestream rooms), or so as to boost sales and conversions in their Douyin Store or on an external platform.
How to create Douyin search ads using Ocean Engine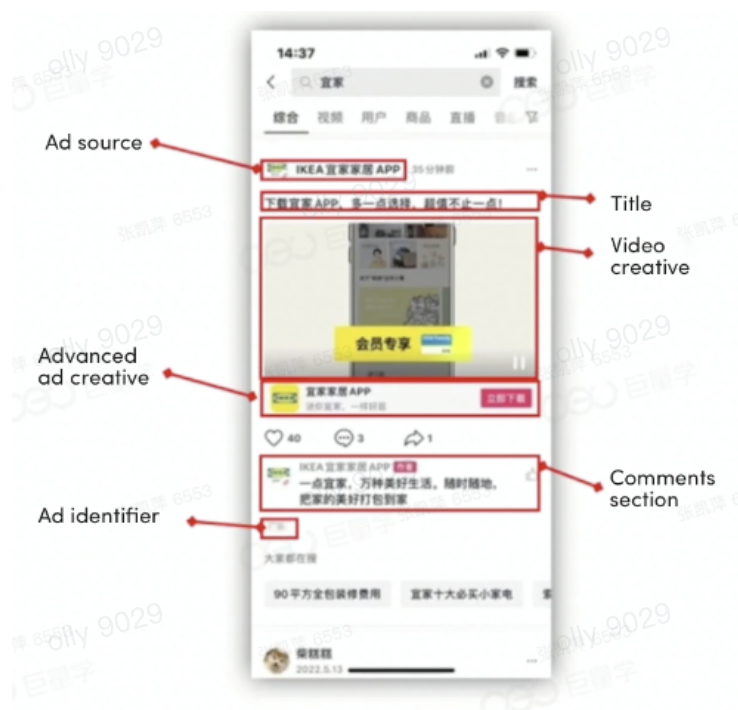 Launched in 2019, Ocean Engine combines the advertising capabilities of ByteDance's suite of apps into one integrated platform. The platform offers advertisers the ability to run targeted advertising campaigns across Douyin, and other popular apps in China using multiple ad formats including banner ads, full-screen video ads, native in-feed ads, and search ads.
Search ads typically serve to direct intrigued users to external resources, such as a specific product, an online e-commerce store, or an app download page, as well as to their on-platform assets such as a promotional campaign video or a live shopping room.
Before delivering any search ads, it's important to understand how the configuration on the advertising backend impacts what is seen on the screen and the different ad formats available for ad placements.
Douyin exclusively supports video content for search ads, including horizontal or vertical video formats. While images can be incorporated, they need to be converted to video using the platform's image-to-video conversion tool. To make use of this, you must activate the Auto Ad Material Generation feature and provide a minimum of three images.
In regard to placement, search ads are usually placed in the 3rd to 10th position and mixed with organic search results. However, gaming, education, and retail industry advertisers can place ads in the 1st position for ad traffic triggered by brand keywords using Download Cards and Precision Ads.
Lastly, while the Ocean Engine interface is available in English, advertisers will still need a team member with Chinese proficiency when dealing with keyword optimization and creative title relevance.
Search ads vs in-feed ads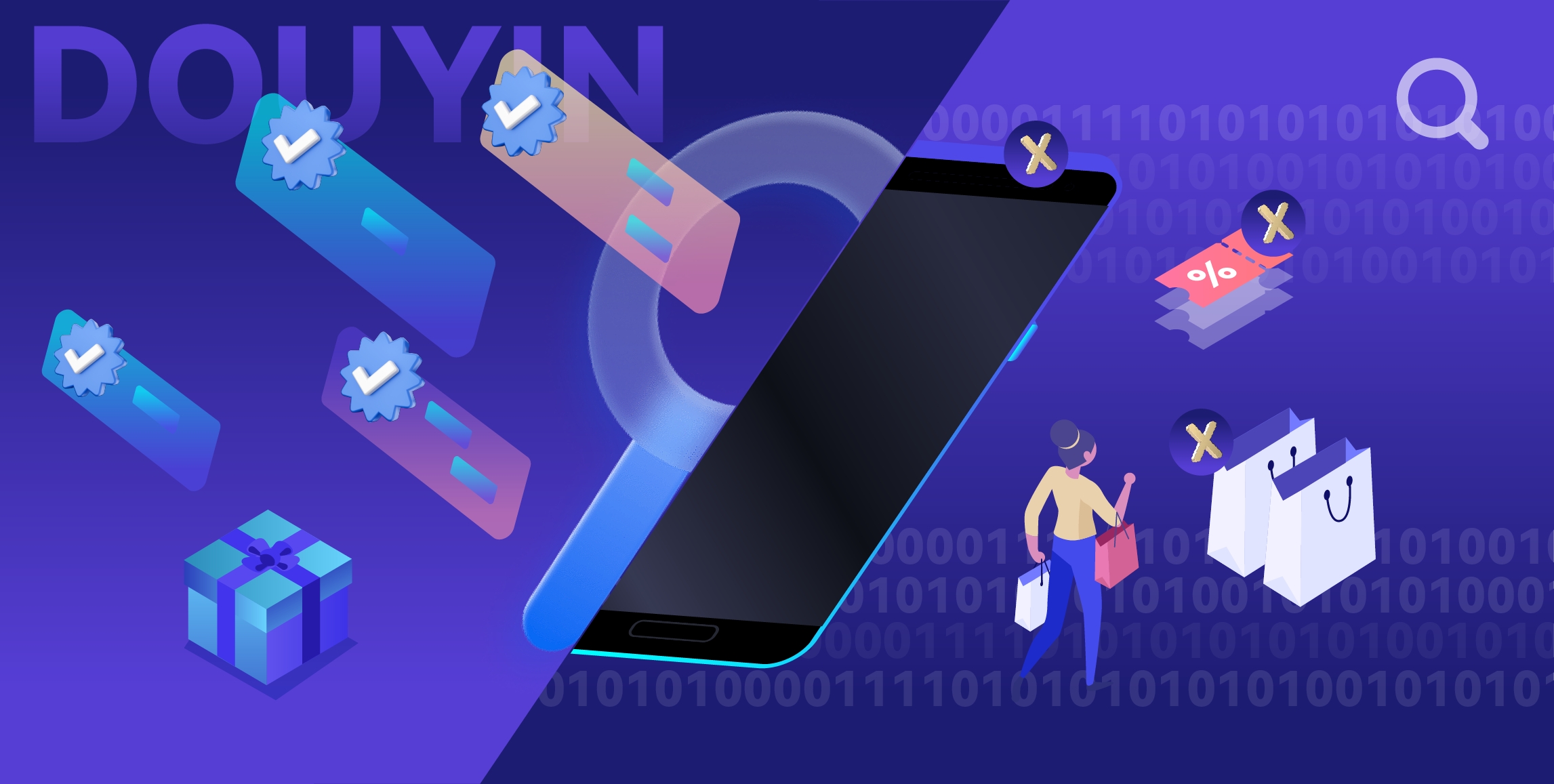 Next, it's important to differentiate search ads from standard in-feed ads. With in-feed ads, users have unclear intentions while browsing content on the app, which means they do not explicitly express their needs and they care less about content relevance. As a result, in-feed ads focus on inspiring user needs by recommending content they're interested in.
In the case of search ads, users have clear intentions as they directly search and seek out desired content. When they conduct their searches, they explicitly express their needs, which are then satisfied in real-time by the search engine and search ads that focus on meeting those user needs with relevant content.
Since users explicitly express their needs, search ads have higher conversion rates and better potential monetization efficiencies when compared with in-feed ads. Navigating the world of search ads, though, can be more challenging than in-feed ads, especially for advertisers who are new to this arena.
| | | |
| --- | --- | --- |
| Ad Type | Search Ads | In-feed Ads |
| How information flows | Users search for information | Information finds users |
| User intention | Clear | Unclear |
| Focus | Satisfying user needs | Inspiring user needs |
| Relevance requirement | Strong | Weak |
| Monetization efficiency | High | Low |
First, there are distinct differences between deploying search ads and in-feed ads, starting with the setup process. In the context of search ads, there is the challenge of managing traffic segmentation, which refers to dividing your ad traffic based on keywords that people search for.
Too many ad sets and too much segmentation, however, can lead to ad sets cannibalizing each other if multiple ads are targeting similar or overlapping keywords or audiences. This can potentially dilute the overall effectiveness of your ad campaigns.
Additionally, the targeting approach with search ads relies heavily on keywords. When keywords are used to target the same audience as in-feed ads, there can be a noticeable reduction in reach, causing traffic to drop.
Search ad delivery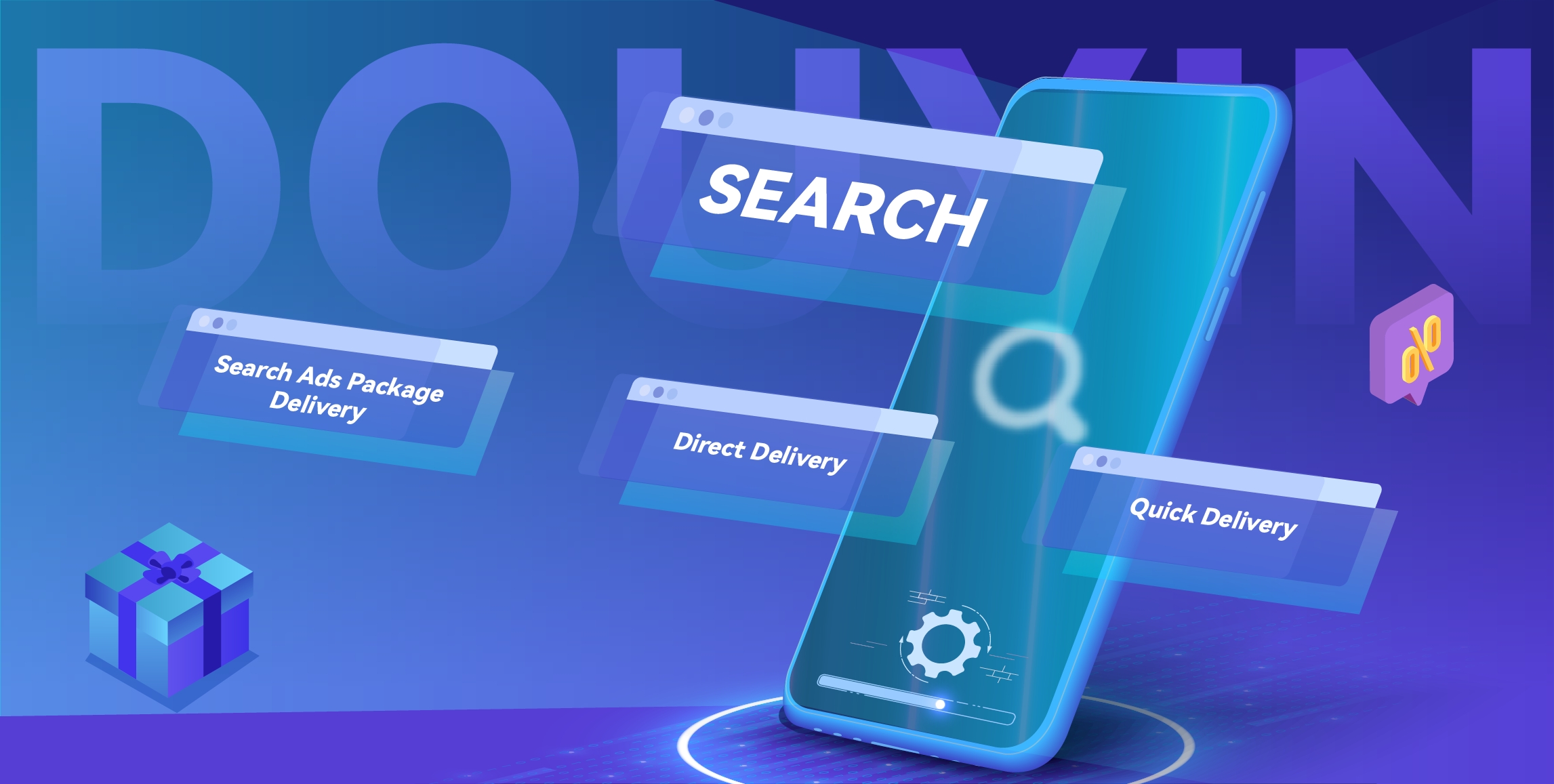 The difficulty in setting up search ads can sometimes leave marketers feeling discouraged, especially as search ads can be delivered in a variety of ways, including automatic and manual configuration.
Since search ads can be delivered in a variety of ways, it's important to select a method that suits your needs. This section will provide an overview of the three options currently available: Search Ads Package Delivery, Direct Delivery, and Quick Delivery.
Search Ads Package Delivery
The delivery and refinement of search ads can be a painstaking journey, often discouraging advertisers from investing the required effort. The common tendency of advertisers is to dedicate their resources to in-feed ads rather than venturing into search ads. Moreover, the techniques involved in search ad delivery and optimization, including word segmentation and word filtering, are not within the skill set of every advertiser. This lack of familiarity often results in a reluctance to explore this advertising method.
These challenges underscore the need for an ad delivery product that simplifies the process for advertisers, allowing them to achieve equal or superior results compared to manual ad delivery but with reduced labor costs. It was in response to this need that Search Ads Package Delivery (formally known as Smart Delivery) was conceived. This delivery method provides a solution for advertisers to deliver their ads more efficiently and effectively.
Search Ads Package Delivery is a cost stability-focused ad delivery product that delivers ads on a fixed cycle. This delivery option enables advertisers to create ads more efficiently by streamlining forms that need to be filled out as part of ad creation. By delivering ads on a fixed cycle and automating ad performance optimizations, this product helps advertisers stabilize their ad costs and boost their ad traffic while reducing their operational costs and boosting their confidence in delivering search ads.
In general, smart delivery is best suited for app downloads and lead generation objectives, especially for first-time advertisers.
Direct Delivery
Direct Delivery is intended to guide advertisers to achieve lead generation, downloads, and other objectives while still allowing them to customize necessary delivery information and make adjustments to optimize ad performance. Contrary to Search Ads Package Delivery, Direct Delivery provides a more extensive range of customizable options, including CPC, CPM, oCPC, and oCPM bidding mechanisms.
This includes the option to relax user targeting settings by enabling Intelligent Extension Flow to fully explore potential traffic and generate more conversions. Advertisers can also enable Campaign Cost Stabilizing Delivery to maximize traffic while stabilizing campaign costs.
When it comes to keyword selection, advertisers can provide their core keywords and apply premiums to optimal keywords in the backend. To exclude keywords, advertisers can use negative keywords, so no ads are delivered based on those keywords. Negative keywords can be set at the ad group level for each product.
This delivery option is suitable for advertisers with experience delivering search ads and who have adequate resources to create independent ad sets and carry out optimization on those ad sets.
Quick Delivery
With Quick Delivery, advertisers only need to set up keywords for their search ads. This gives advertisers a simple and quick advertising experience, allowing them to improve advertising efficiency while improving search ad performance and generating better search leads.
Advertisers can set their own keywords or use system-recommended keywords. The system will also automatically update the keywords with premium keywords to ensure and maintain ad performance.
Using Quick Delivery, advertisers can enable or disable the Quick Delivery Keywords feature for all ad sets. By enabling this feature, advertisers can quickly deliver in-feed ads across all ad sets to premium search traffic with one click. Advertisers can also set the bid coefficient and expand user targeting.
This delivery option is suitable for novice advertisers with no experience delivering search ads or advertisers with limited resources who don't have the time or capacity to create independent ad sets for search ads.
Search ad optimization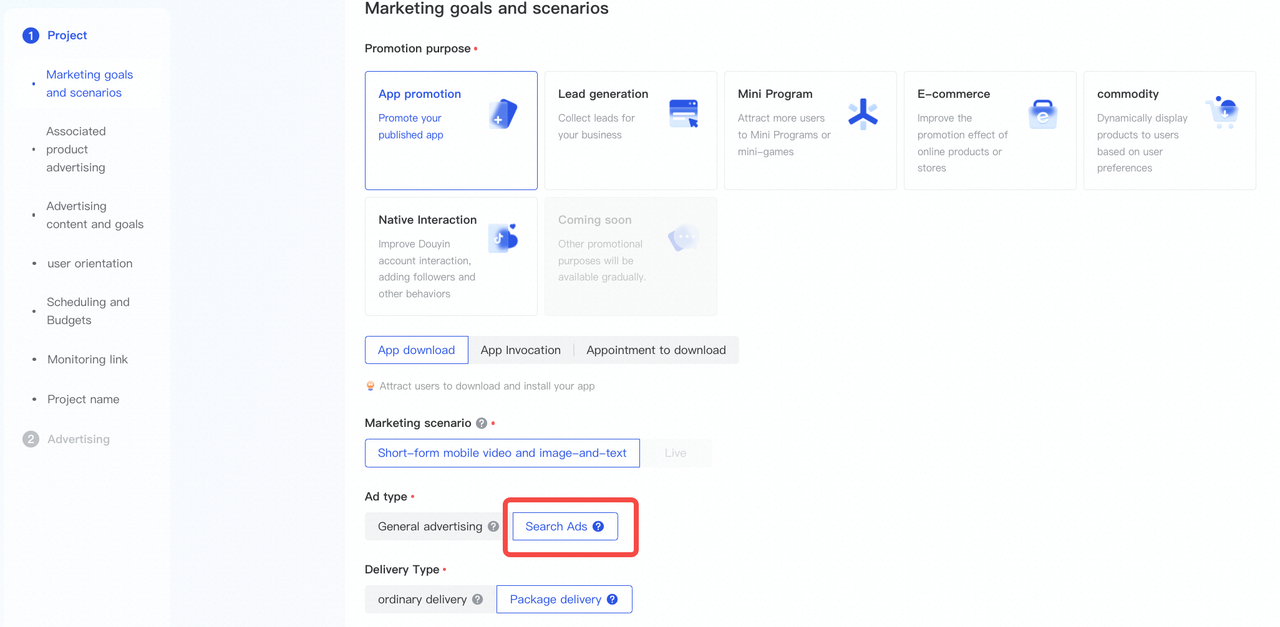 After selecting a delivery method and launching your ad campaigns, it's crucial to understand and manage the learning and post-learning periods of your search ads. The learning period refers to the initial phase during which the ad delivery algorithm gathers data and adapts to optimize performance, which takes 2-3 days. The post-learning period should then be left to run for at least three days and acquire at least 10 conversions before the next round of optimizations.
Below are the recommended practices for each phase.
Optimization during the learning period
Don't adjust too frequently: Try not to adjust the price more than twice a day. You want to allow the model time to explore your updated ad sets while taking advantage of the cold-start compensation policy. (Note: The policy does NOT apply to certain features.)
Check regularly: Check regularly and turn off ad sets that have low ad spend and conversions to reduce cost.
Other suggestions: Create several ad sets first to get 2-3 ad sets that have stable ad spend. Then, update keywords and creatives regularly to improve the quality of existing ad sets.
Post-learning period
Ad sets that experience a significant drop in ad spend after the learning period: This may be caused by the decrease in eCPM which results from a reduced stimulation compared to the learning period. Optimize these ad sets by comparing the current bids, CTRs, and CVRs with those during the learning period.
Ad sets that have stable ad spend for the first 3-4 days but experience a decline in ad spend afterward: For ad sets that have a sound ad spend and cost, copy and deliver them. Conversely, for ad sets that perform poorly with respect to cost and ad spend, do not copy them but create new ones instead.
Over a full day, the ad sets that have cost overruns account for more than 50% of the total ad sets: For an ad set that has 1-2 conversions, cost overrun happens because of the volatility of the model. For such ad sets, use in a single ad set those keywords that bring conversions to obtain more conversion data to achieve a stable ad spend.
Leading the charge in Asia's search engine evolution
Douyin's success in creating a compelling video content platform represents a fundamental shift in the landscape of search engines in Asia and beyond. By integrating search functionality with a social and video-first approach, Douyin is creating a comprehensive and closed-loop digital ecosystem.
This evolution is good news for businesses and marketers, as it offers fresh and engaging ways to connect with consumers. Embracing this trend and leveraging Douyin's unique strengths will be key to succeeding in China's rapidly evolving digital marketplace.
To learn more about Douyin and digital marketing in China, you may like to read up on the number one shopping trend in China and how to advertise in China using Ocean Engine. For direction assistance, including specific social search engine and search marketing advice for China, please feel free to reach out to us via the Contact Us form on our website.