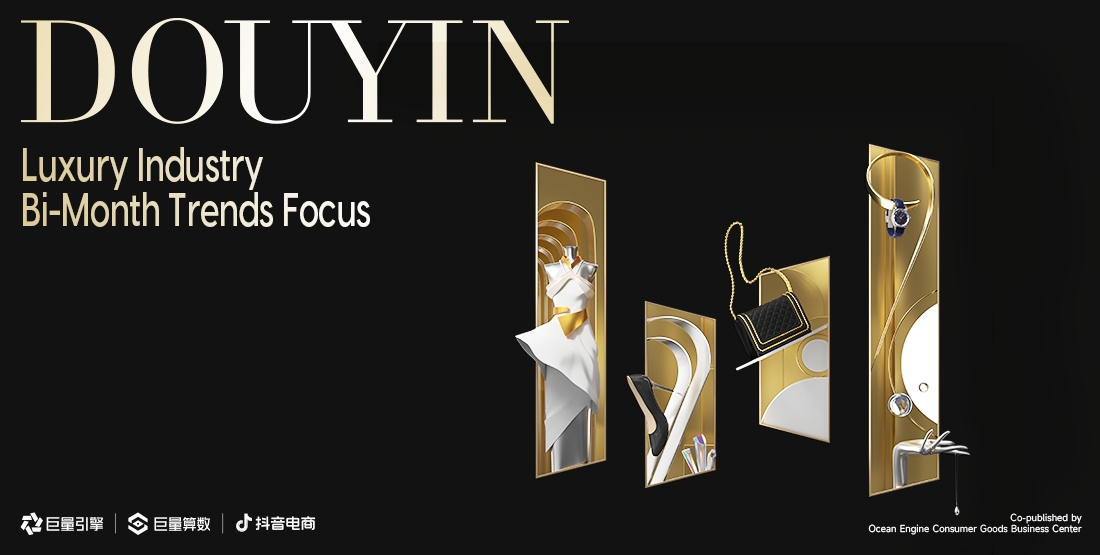 Trends Focus: Recent Trends and Data from Douyin on China's Luxury Industry | May – June
In an era where luxury is as much about the craftsmanship as it is about the narrative it crafts in the minds of consumers, it's vital for brands to keep a close pulse on trends in the digital space.
In this post, we are excited to unveil "Luxury Industry Bi-Month Trends Focus", a bi-monthly publication highlighting the latest luxury industry trends as seen on Douyin, a popular video-sharing platform with over 600 million daily active users.
This report is designed to serve as a key resource for industry professionals, offering not only recent platform data but also expert analysis synthesizing the latest trends and case studies.
For our first edition, covering May-June 2023, we delve into the spectacular growth of the luxury goods industry in the digital realm. From trending hashtags to a surge in livestream activity, we will explore the forces shaping industry trends on Douyin.
Fashion shows
During May and June, Douyin streamed eight luxury fashion shows and exhibitions. Brands also took advantage of Douyin's "Follow" feature, converting views into followers before and after each live event.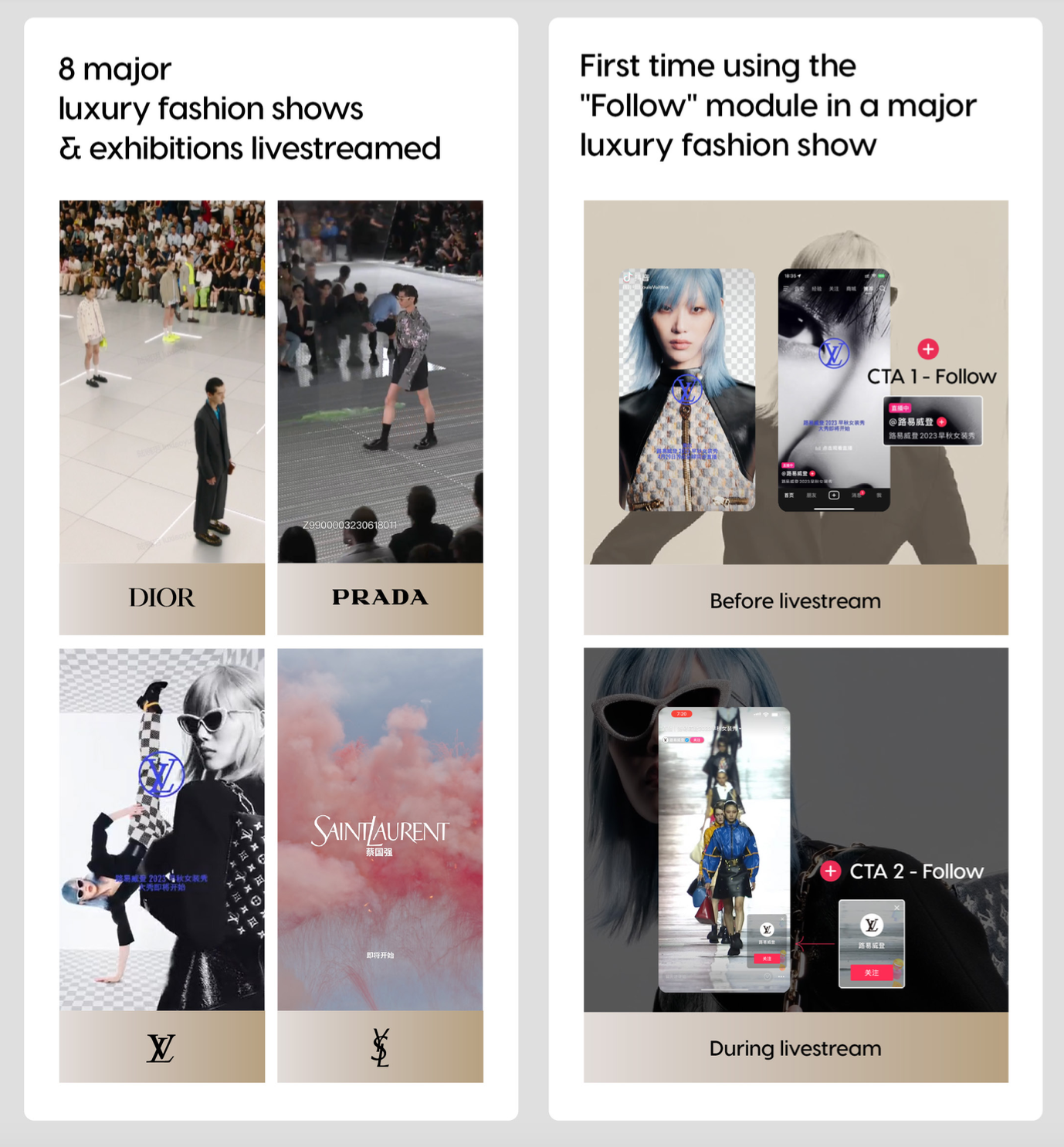 Trending content
Louis Vuitton collaborated with Jackson Wang to expand its digital reach. Using Douyin's co-creation feature to release creatives under the official brand account and the celebrity's account, users were guided to follow both accounts.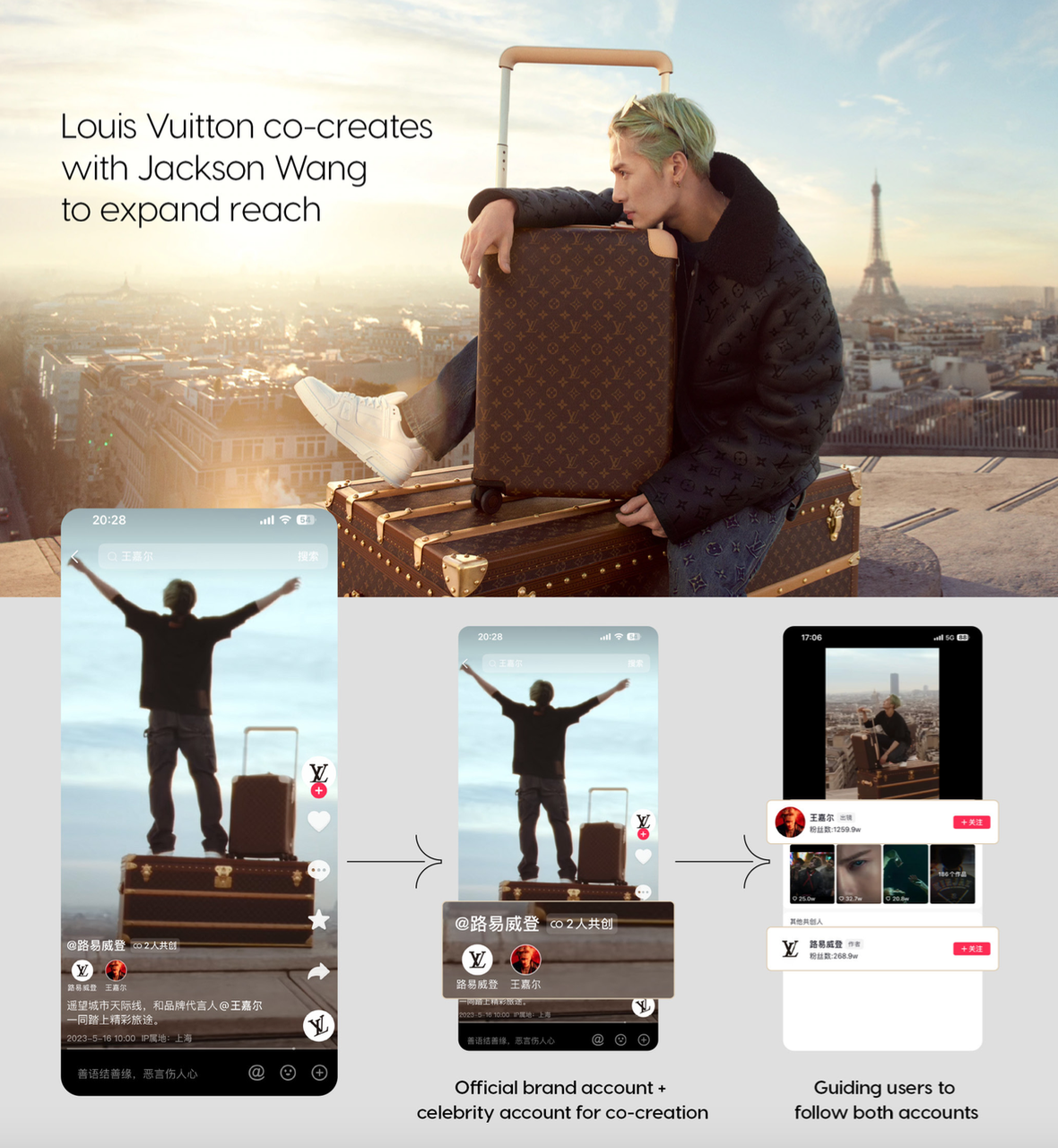 Recent exhibitions
Embracing the immersive experience of augmented reality, Gucci initiated an AR Hashtag Challenge to promote their upcoming Gucci COSMOS Exhibition held in Shanghai.
Using Top View Ads and brand zone, Gucci Cosmos launched a full-funnel promotion to generate interest and drive traffic to its exhibition reservation page and official web store. Coupled with celebrity endorsements and a Brand TVC, the campaign boosted professional and user-generated content, creating a significant buzz.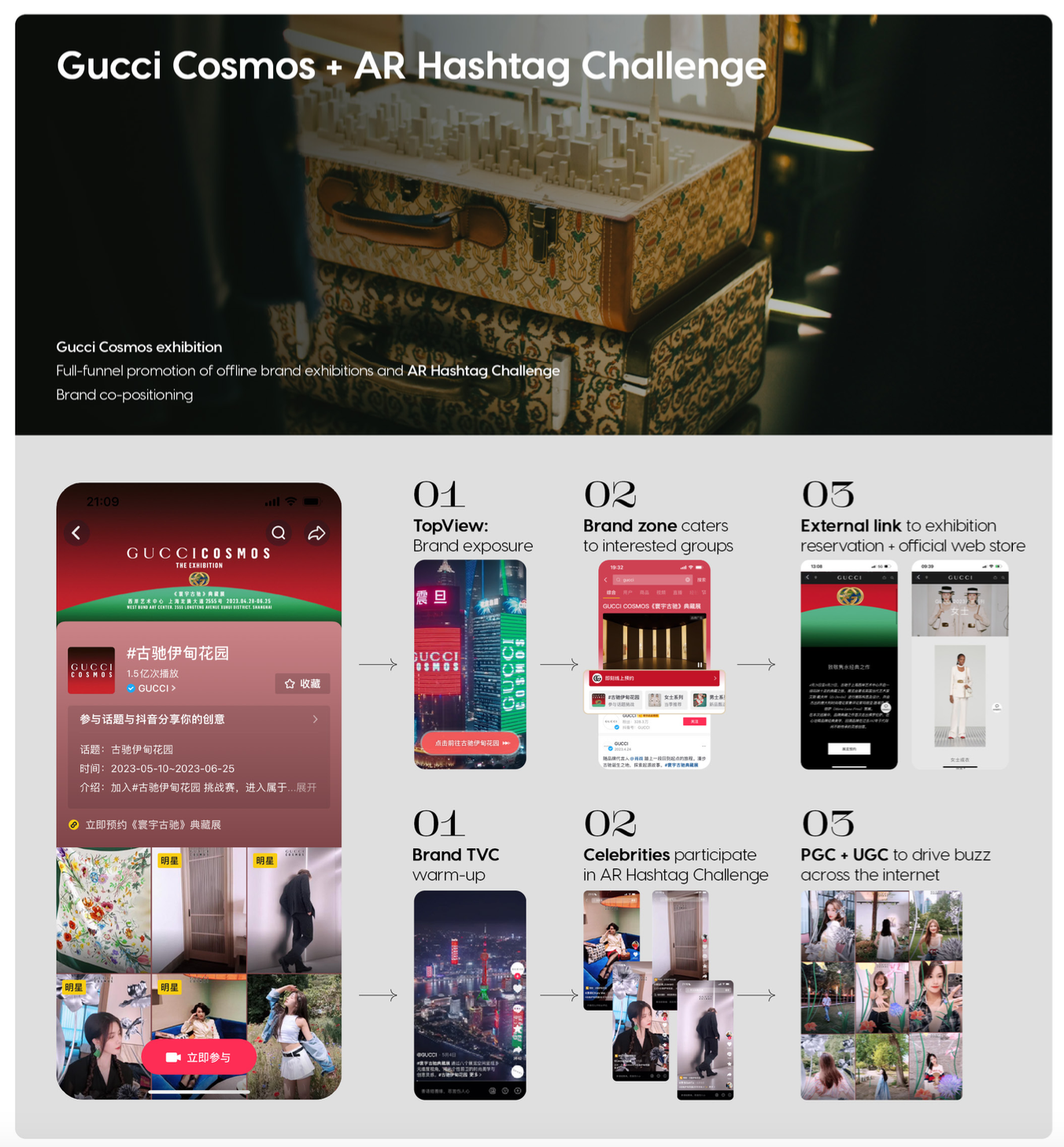 Jaeger-LeCoultre also teamed up with Douyin to drive online conversions and offline attendence. Using customized video content as a pop-up announcement, the brand utilized Douyin to build online exposure, while creators helped to disseminate content and drive online reservations for the offline exhibition.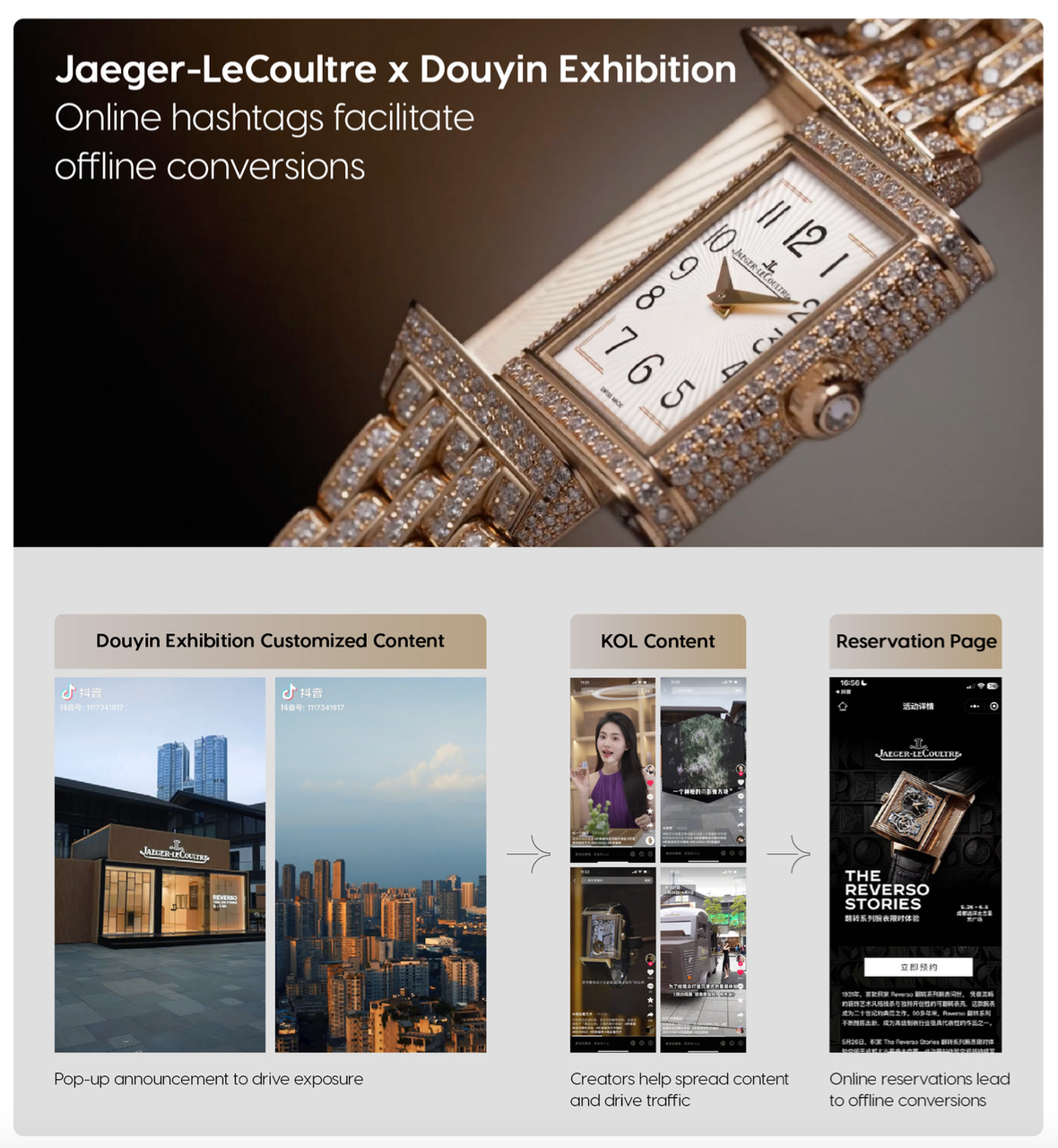 Industry data overview
From short videos and livestreams to search activity and hastags, below is a snapshot of the latest industry trends in China's luxury industry.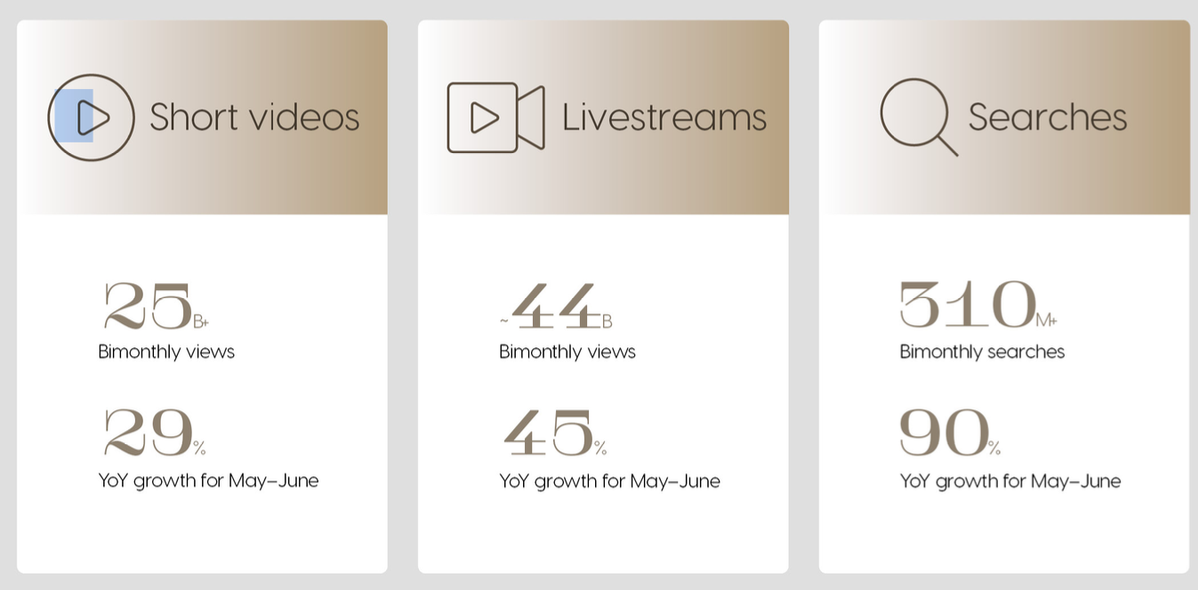 Short videos
With an astounding 25 billion views and 29% year-on-year growth (May and June), it's evident that consumers are finding immersive satisfaction in short videos.
Livestreaming
Transforming passive viewing into an interactive experience, livestream participation continued to soar, with 44 billion bimonthly views and 45% YoY growth.
Searches
As a key barometer for desire, search activity experienced 90% YoY growth during May and June, with 310 million searches. Popular search keywords were spread across a range of brands including Miu Miu, Prada, Cartier, and Longines, along with fashion events including the Tokyo fashion show and Dunhuang Show.
Hashtags
Hashtags are an important link to match content with an interested audience. Dominating hastag exposure during this period were #CheneyChanDunhuangShow, #LouisVuittonCEOVisitsBeijingStoreWithChildren, and #PuyiWatchAuctionedFor6MillionUSD.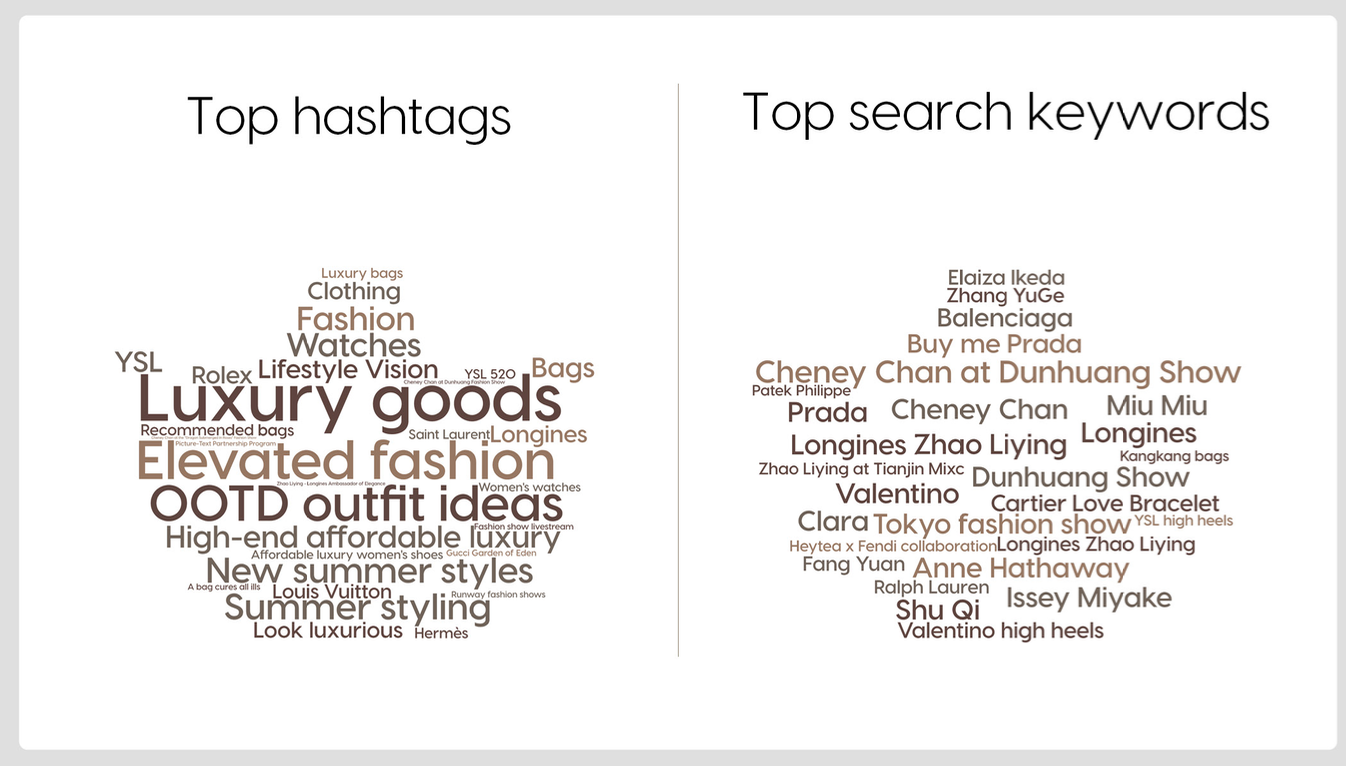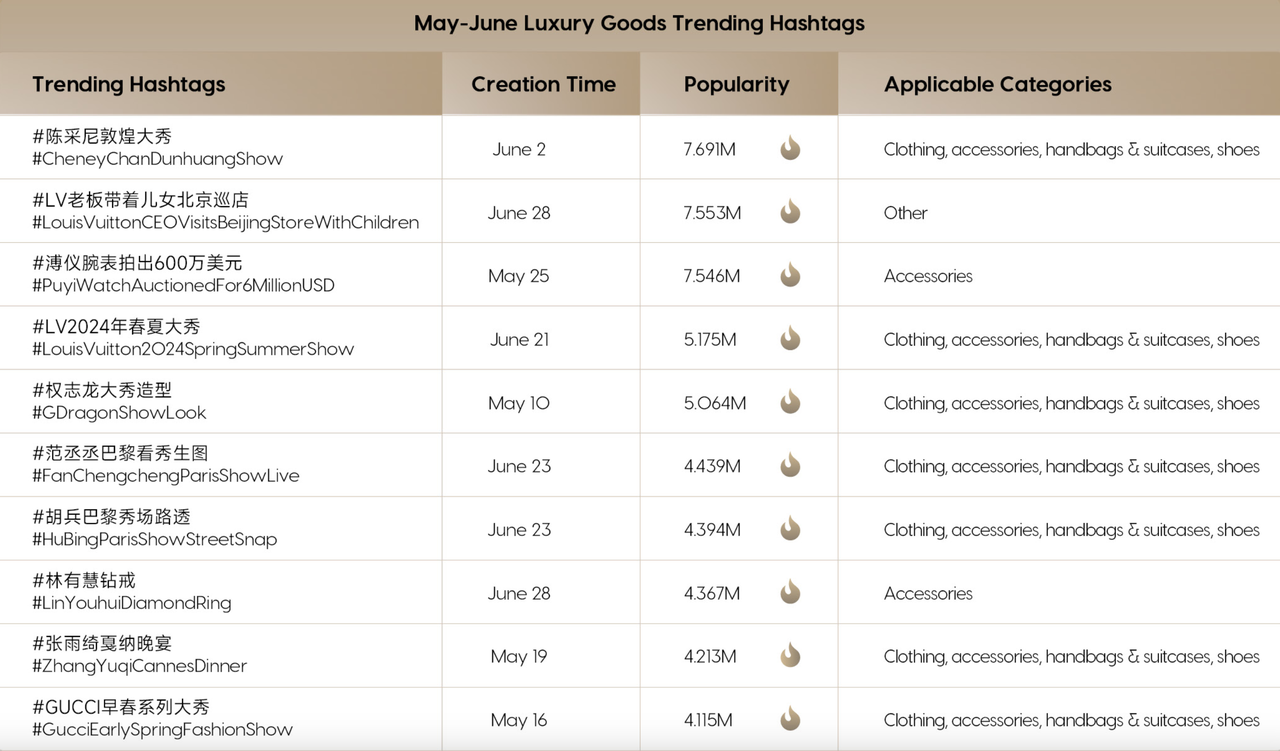 Interpreting category trends
Told through the hashtags, search keywords, and short videos that index the zeitgeist of modern luxury, this next section delves into the latest category trends.
Symbolizing the pinnacle of self-expression, Accessories witnessed a surge with 65% YoY growth in views (May-June), with Clothing (56%) and Handbags & Suitcases (46%) close on its heels. Conversely, the Shoes category saw a 28% dip in YoY views, highlighting a shift in consumer focus.

Luxury handbags & suitcases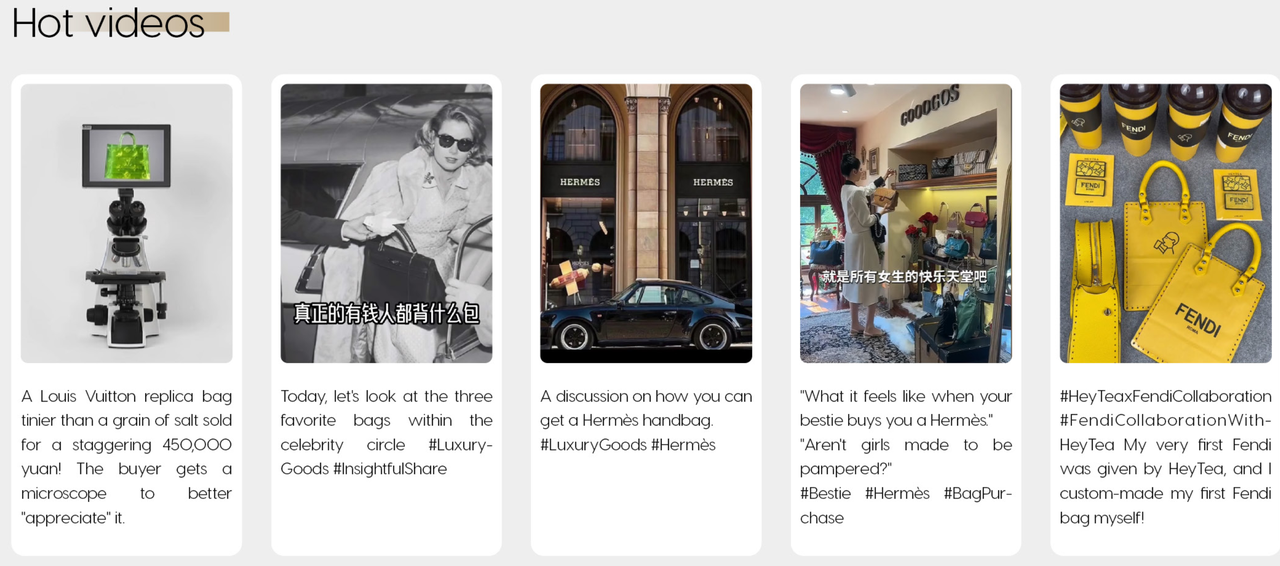 Designer clothing


Designer accessories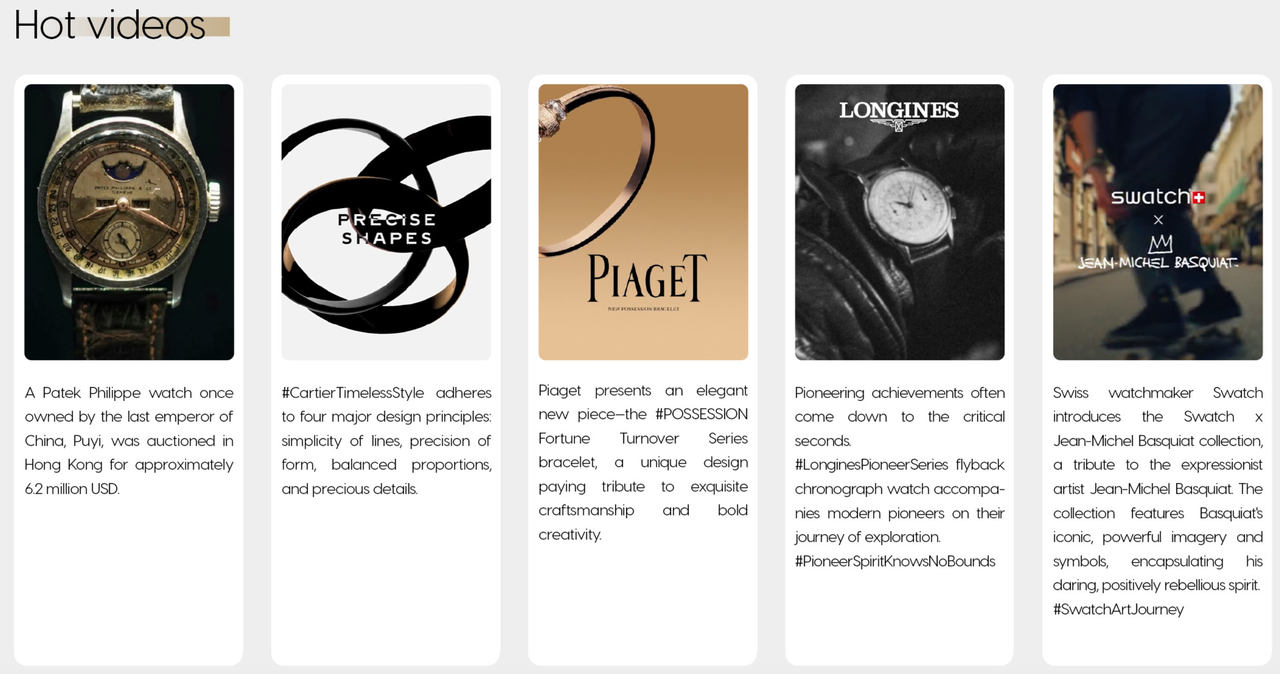 Designer shoes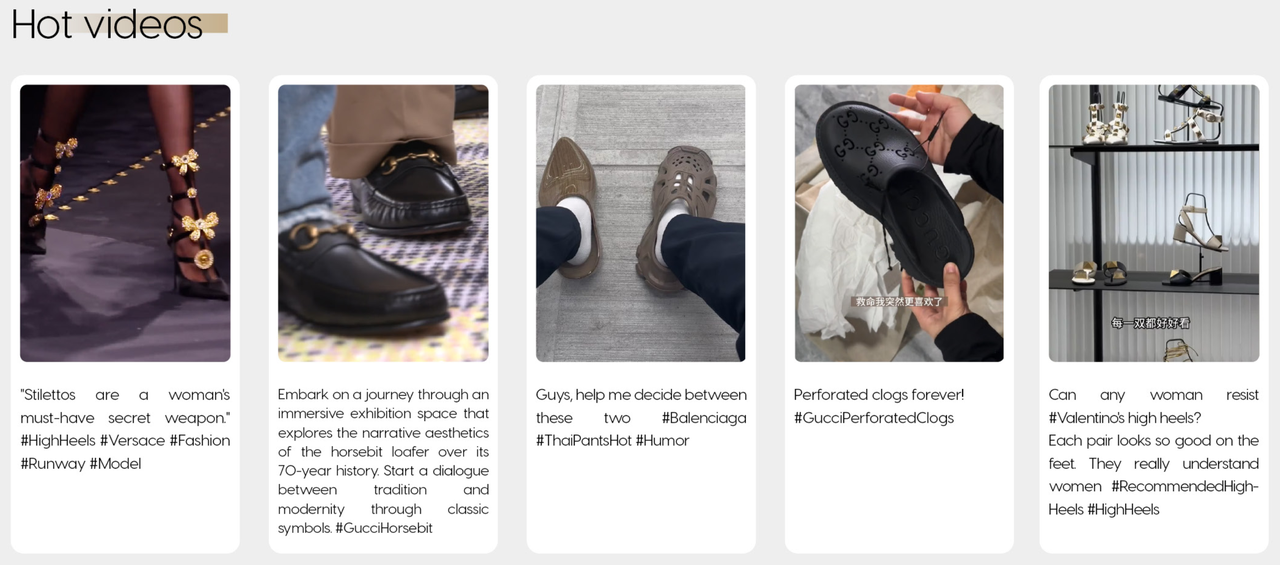 Spotlight on brand ads
Looking for ad inspiration? Explore a curated selection of ad creatives from leading brands including Cartier, Celine, and Tiffany.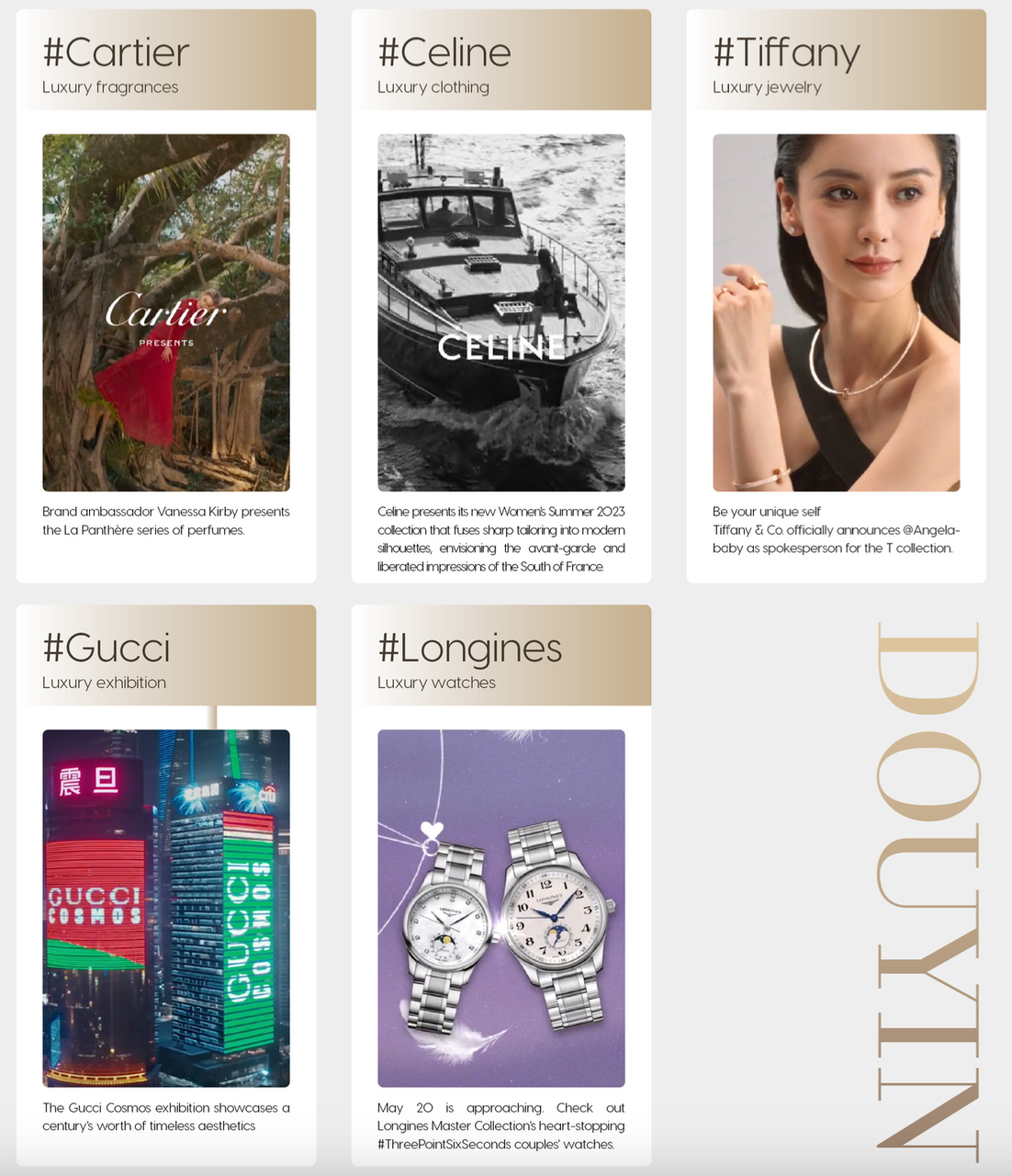 Trending KOL content
From lifestyle vlogs to couples' outfits and Summer recommendations, luxury brand and influencer collaborations remain a popular source of content.
Utilizing KOL management services from the Ocean Creator Marketplace, iconic brands including Coach, Tommy Hilfiger, Pandora, Gucci, and Longines recently partnered with Chinese KOLs to craft and distribute their branded content.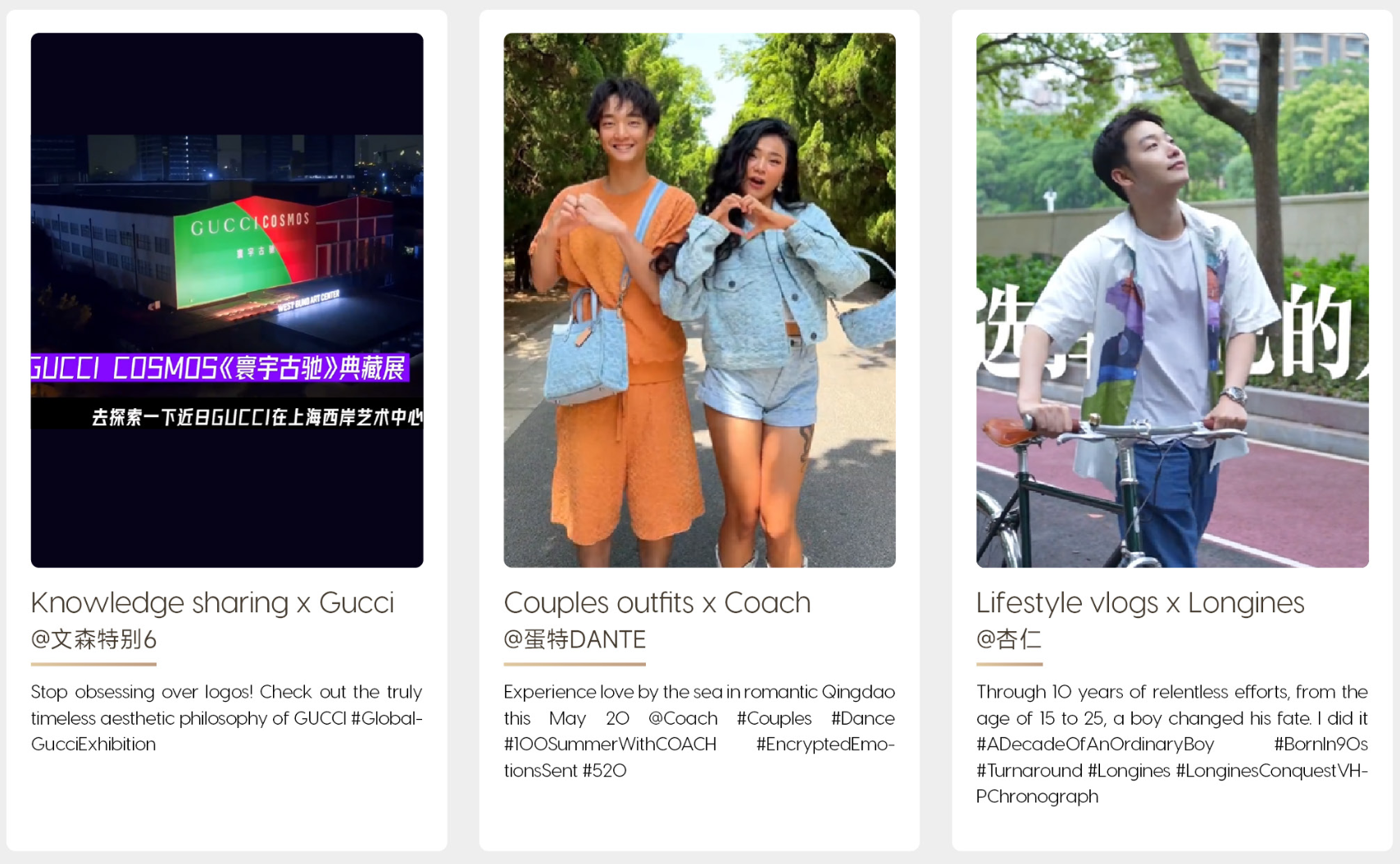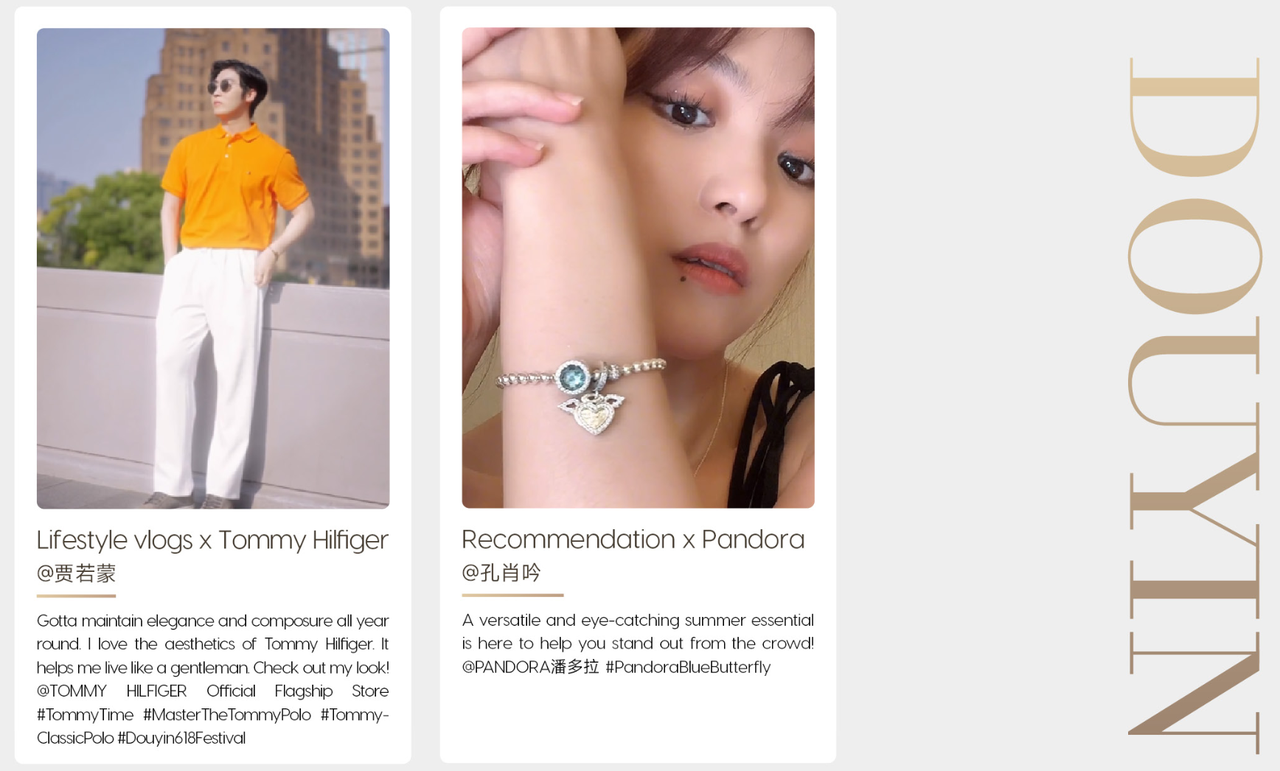 Stay tuned for the next bimonthly report
Drawing on inside knowledge and the latest data from Ocean Insights, Ocean Engine, and Douyin E-commerce, each bimonthly report is designed to inspire and inform business strategies, assisting brands to stay a step ahead.
Bookmark this page and return soon to view the next bimonthly report
Declaration
This report was jointly produced by Ocean Insights, Ocean Engine Consumer Goods Business Center Luxury Goods Industry, and Douyin E-commerce Luxury Goods Industry.
The text, data, and other content contained in this report are protected by the intellectual property laws and regulations of the People's Republic of China. Except for third-party data and other public information cited in this report, this report belongs exclusively to Ocean Engine.
Writers of this report do not take any responsibility or liability for the third-party data and other public information cited in this report. This content, in all circumstances, is for reference only and shall not be altered or modified without permission.
You are welcome to share or cite this report. If you wish to share or cite this report, please contact us. Also, do indicate the source when you share or cite this report. If you have any questions about the content of this report, please contact us at eresearch@bytedance.com.
Ocean Insights
Leveraging content consumptionplatforms such as Toutiao, Douyin, and Xigua Video, as well as Ocean Engine's advanced data and technology, Ocean Insights provides leading, strictly objective,and careful insights into marketing trends. Ocean Insights publishes content trends, industry research, and advertising strategies, along with indexes, rankings, and data analysis tools to meet the needs of enterprises, marketing personnel, and creators.
About the data
The data in this report is from internal data platform. Please note that it has not been validated
Douyin luxury goods content: Videos on Douyin that contain luxury goods-related keywords in their titles as well as videos featuring luxury goods.
Time frame: May-June 2023 (unless otherwise specified).