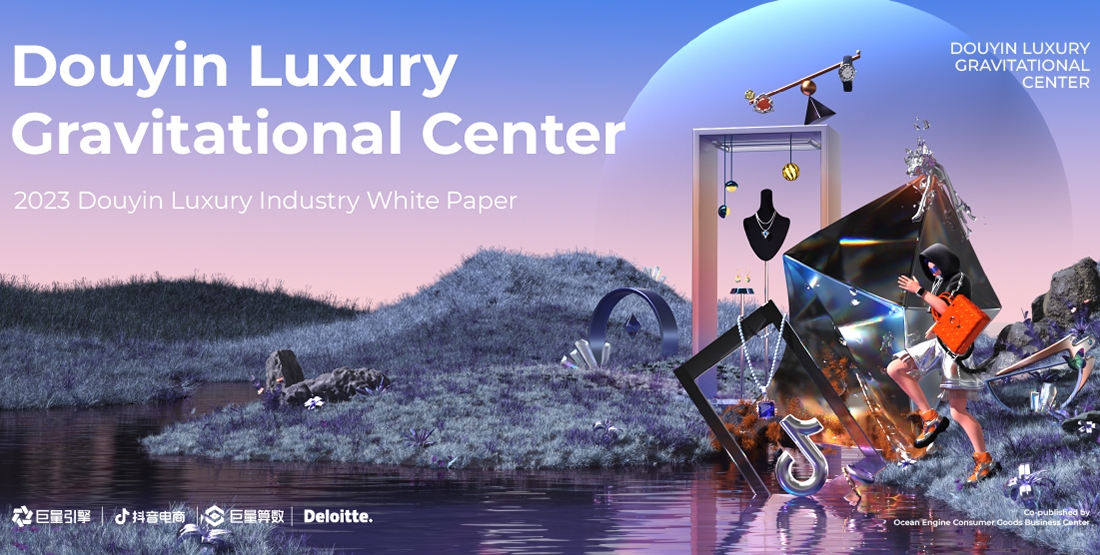 Why Luxury Brands Can't Resist the Pull of Douyin in China
Over thirty years ago, in 1992, LOUIS VUITTON opened its first store in the Chinese mainland at the Peninsula Hotel Beijing. Cartier also opened its first watch counter on Nanjing Road in Shanghai the same year. Fast forward three decades and China has evolved into a pivotal player in the global luxury market.
After a brief dip in 2022, China is expected to continueDouyits leading role in 2023, propelling its market value to CNY 580 billion at an impressive growth rate of 18%.
As part of an in-depth look at China's lucrative luxury market, Ocean Engine, Douyin E-commerce, and Ocean Insights in conjunction with Deloitte China, have jointly released a whitepaper on this topic. This comprehensive report highlights the key trends driving the luxury industry in China, which we will introduce to you in this post.
China is an absolute must for luxury brands
In the post-pandemic era, the global luxury market is experiencing a new phase of growth. Deloitte projects the global luxury industry to stay on track for 9% year-on-year growth in 2023, culminating in a market valued at CNY 2.3 trillion.
Turning our focus to China, Deloitte forecasts 8% year-on-year growth in China's luxury market for 2023, resulting in a market value of CNY 580 billion. China is also set to play an increasingly prominent role on the global stage, with its market share projected to reach 25% by 2023 and an impressive 40% by 2030. This trajectory is expected to position China as the largest market for luxury goods globally, surpassing Europe and the Americas.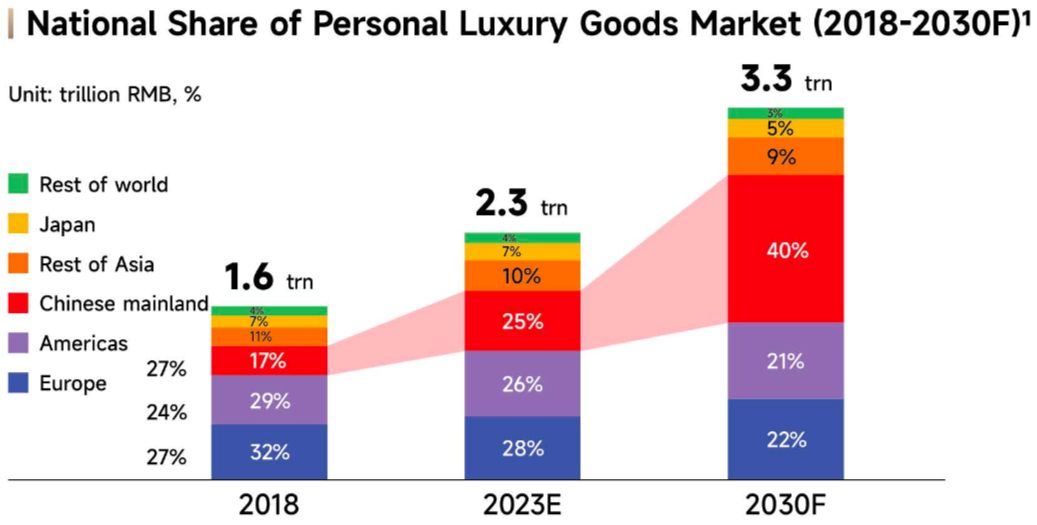 Mirroring trends in the global market, China is experiencing robust growth in segments such as jewelry, watches, and bags & suitcases on the back of their investment potential and the traditional consumption driver of self-indulgence. With luxury items becoming more accessible, consumers are also showing a heightened interest in maximizing the utility of their luxury purchases within their day-to-day routines.
Luxury brands offering qualities such as scarcity and investment potential, along with the ability to consistently offer rich and unique experiences, are thus well-placed to continue capturing strong consumer demand.
Consumer confidence remains strong when it comes to luxury
Chinese consumers exhibit a nuanced perspective towards luxury goods but the overall perception of luxury consumption remains cautiously optimistic, with high- and medium-spending consumers exhibiting stronger consumer confidence.
Those in the medium and higher spending brackets are typically more inclined to purchase luxury items, particularly categories that carry and preserve their value, such as watches. Conversely, consumers with lower expenditure tendencies tend to adopt a more conservative approach, becoming increasingly price-conscious in their choices.
Going forward, high-spending consumers in China are expected to maintain their level of spending, while paying more attention to the product and overall shopping experience. Medium-spending consumers, meanwhile, will look to upgrade the brands they shop at and to increase spending on more value-added categories such as watches. Finally, lighter spending consumers are expected to reduce their spending on luxury goods, while becoming more sensitive to price.
Four must-know trends shaping China's luxury market in 2023
China's luxury market is currently undergoing four important changes. From substantial growth in online retail channels to evolving dynamics within the core luxury audience, deployment of improved localized strategies, and a resurgence in cross-border spending, these four trends are ushering in a new era for the luxury market in China.
Iteration of core audiences
More and more, high-net-worth individuals (HNWls) and the younger demographic comprise the backbone of the luxury consumer demographic. While HNWls gravitate towards investment-grade luxury items such as heirloom timepieces and iconic handbags, the younger cohort is more limited to fashion-forward attire and accessories.
Digitization of retail channels
From search to purchase, the luxury market is increasingly leveraging digital platforms to transform the consumer journey, offering consumers an enriched shopping experience via various formats. At the same time, interest-driven e-commerce models are being devised to cater to consumers' consumption behaviors, capitalizing on existing and stimulating new consumer interests.
Deployment of local strategies
Luxury brands are showing greater awareness of the China market's unique attributes, leading to a surge in the adoption of localization strategies. This includes developing market-aligned product offerings, local pricing models, and marketing initiatives, including festival-centric campaigns such as Qixi Festival (Chinese Valentine's Day) and the 520 E-commerce Festival.
Resurgence of cross-border spending
The first half of 2023 marked a robust rebound in cross-border consumption. Chinese consumers contribute substantially to sales figures in overseas markets, particularly within Asia. LVMH's (Moët Hennessy Louis Vuitton) 2023 half-year report also shows a significant upswing in luxury spending by Chinese tourists in key markets like Japan and South Korea.
Digital content platforms serve as influential channels for brands
Chinese consumers are broadening and diversifying their luxury shopping habits, with a noticeable shift toward digital platforms. With adoption surpassing a 53% penetration rate, digital platforms are gradually transforming consumer behavior and shaping a new perspective on luxury.
In terms of content, Chinese consumers want to have a deeper understanding of the luxury brands they follow. This means they not only want to see product reviews and unboxing content but they also want to understand the story behind the brand as well.
Short videos and livestreams are two of the best mediums for delivering authentic and engaging content for brands to tell their story. According to an Ocean Engine and Deloitte survey of the luxury industry, 34% of consumers believe that product descriptions in the form of short videos are more detailed than other formats, while 36% of consumers believe that livestreaming offers a more immersive experience.
The unhurried pace of livestreaming also aligns well with the refined image associated with luxury products, while short videos help bring a sense of joy into users' lives while contributing to each step of the customer journey, from initial discovery to information about where to buy and how to maintain or preserve luxury items after they are purchased.
Luxury brands, celebrities, and fashion outlets flock to Douyin
Starting with GUCCI in 2020, more brands, celebrities, and fashion outlets are turning to Douyin to build their online audience in China.
Spanning short and mid-length video content, livestreaming, and e-commerce, Douyin acts as a super app in China, giving brands direct access to over 600 million active monthly users.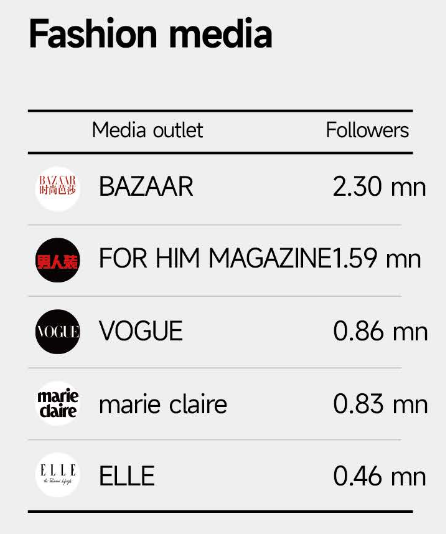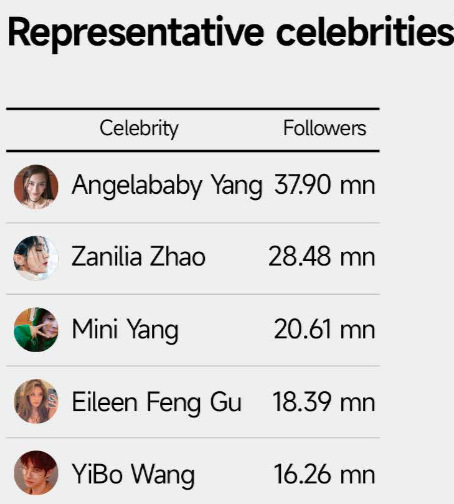 GUCCI now has more than 3.3 million followers and 24 million likes on Douyin, while BAZAAR has 2.3 million followers, and FOR HIM MAGAZINE has 1.58 million followers.
In regards to viewership, short video views for content related to jewelry, watches, and bags & suitcases increased significantly during the first half of 2023, while shoes & ready to wear and accessories performed relatively flat after experiencing strong growth in 2022.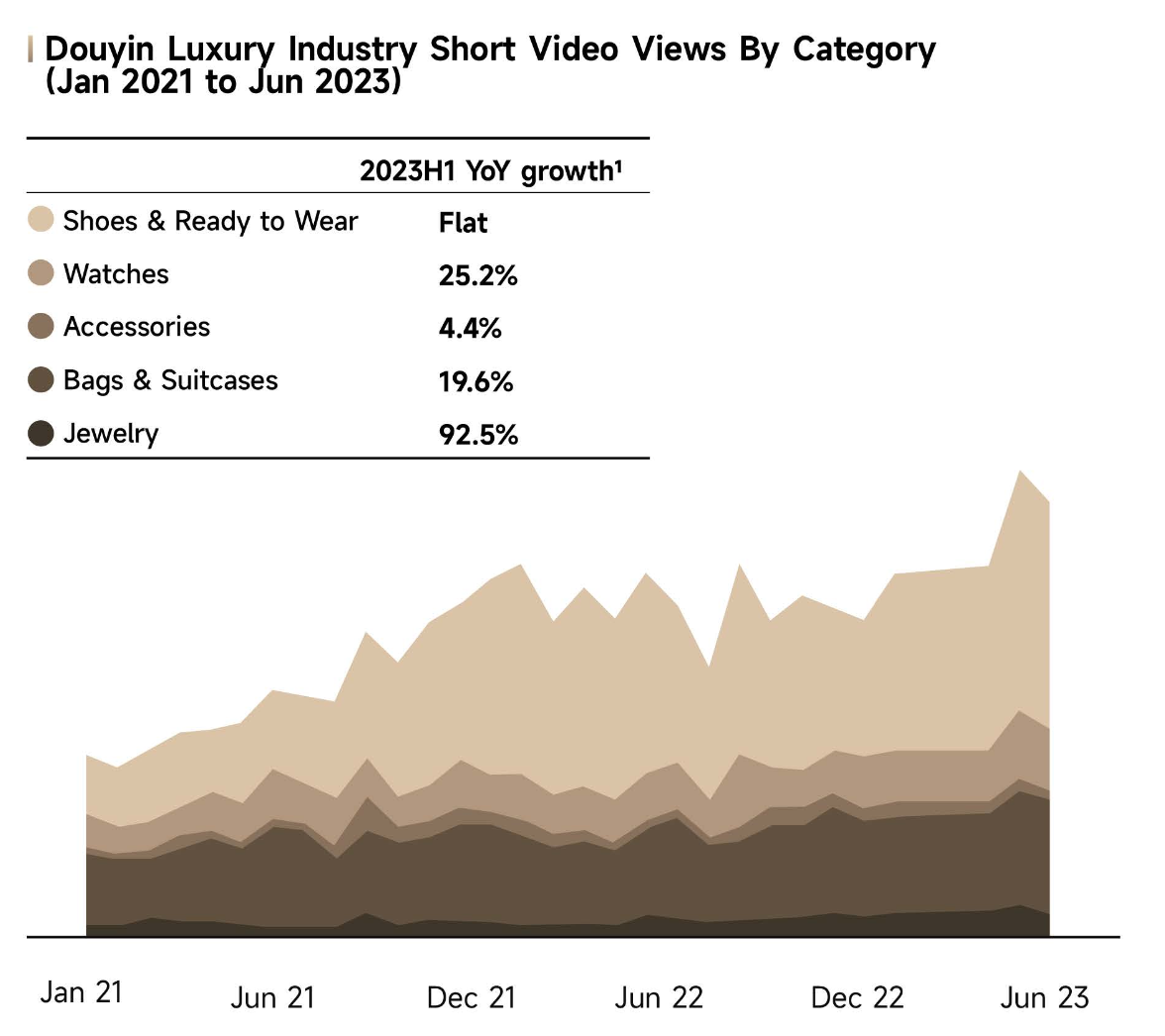 New content formats create buzz on Douyin
Beyond short videos and livestreaming, luxury brands are engaging with users through a variety of interactive marketing tools, including live fashion shows, online check-ins, and the latest interactive technology.
Fashion shows
With pre-event, in-event, and post-event marketing tools, including show reserve links, live streams, and hashtags, Douyin is able to effectively create online buzz and maximize exposure for fashion shows around the world. From January to June 2023, a total of 28 luxury fashion shows were shared on Douyin, including FENDI, PRADA, GUCCI, SAINT LAURENT, DIOR, LOUIS VUITTON, BVLGARI, Cartier, and Shanghai Fashion Week.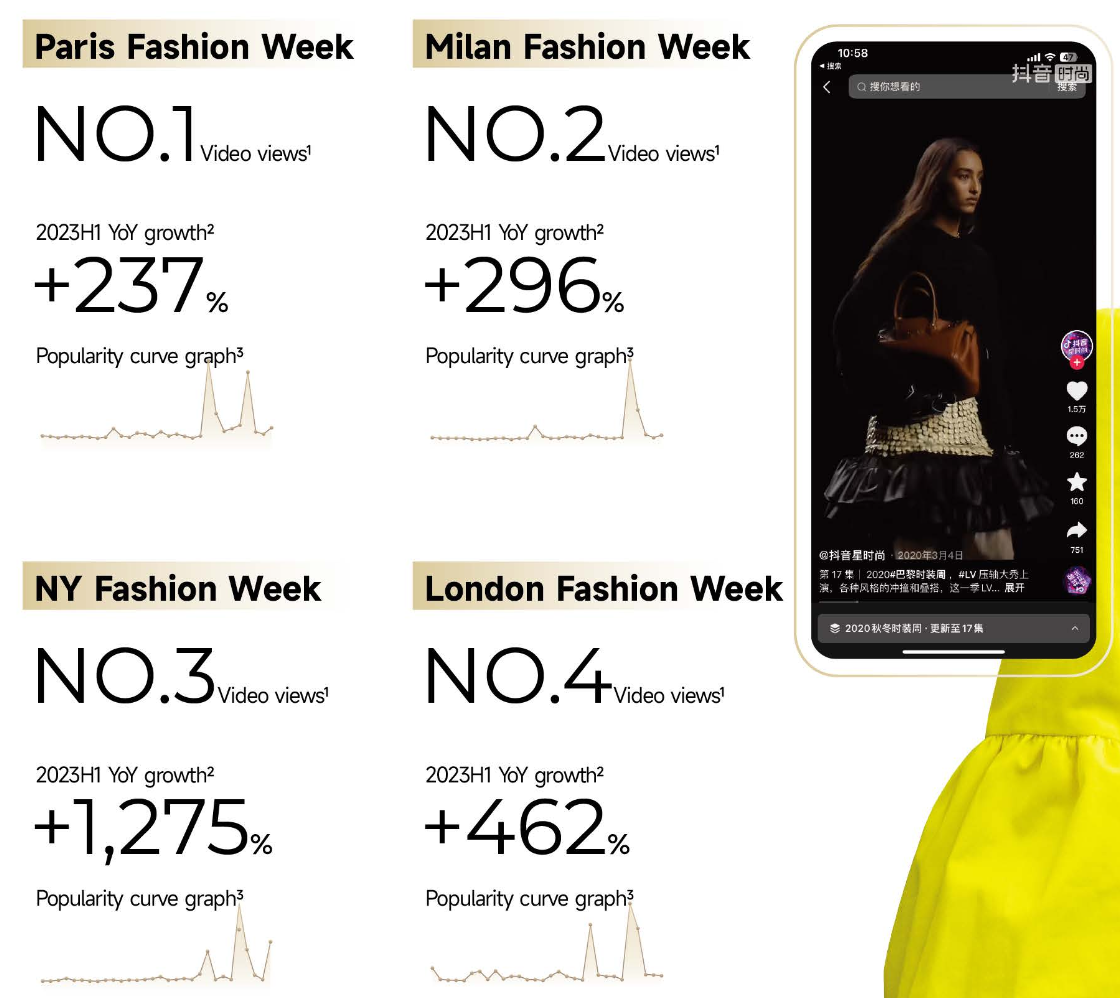 Online check-ins
Douyin is leading a new lifestyle trend with exploring art venues and other attractions becoming a hot, new habit. Over the past year, there were over 20 million online check-ins for museums and exhibitions, while tourism-related check-in spots such as hot springs, camping grounds, and sightseeing areas attracted more than 15 million check-ins.
AR & VR
On Douyin, brands are increasingly adopting VR and AR interactive technology to communicate with users, breaking through time and spatial constraints to reach a wider range of next-gen users. Using the Douyin PICO VR glasses, popular brands like Heineken are connecting with users in the virtual world to create new brand experiences, as seen during Heineken's 2023 EDM music festival. Prada also utilized Douyin's AR technology to launch the AR try-on function on its official Douyin flagship store during the 2022 Qixi Festival.
Luxury brands realize exponential growth on Douyin E-commerce
After years of keyword-based search and static product listings on traditional e-commerce platforms, the landscape of online shopping has undergone a significant transformation. Instead of relying on users to seek out and navigate a brand or merchant's online store, social apps like Douyin prioritize creating relevance and proactively meeting individual user needs based on interest.
On Douyin, users express their interests and preferences for products through their viewing habits and daily interactions. From watch-time duration to content creation and product purchases, user interactions accumulate and enable brands to find them based on proven interest.
Using this data, Douyin is able to match content and user behavior with high accuracy and provide a platform for interest-based shopping, also known as interest e-commerce. This in turn gives brands a stage to create relevant product offers, sales events, and marketing strategies to reach their target customers and convert them into long-term customers.
In addition, Douyin users exhibit a heightened inclination to search for products after exposure to content, as noted in the whitepaper. This includes seeking out official brand stores on Douyin and joining luxury-themed communities on the platform, which serve as important hubs for searching, learning, and exchanging insights regarding luxury products.
Festival promotions on Douyin also have proved pivotal in driving luxury sales. During emotion-filled festival periods, such as the Qixi Festival and Valentine's Day, e-commerce activity in the luxury industry has exceeded that of the general market, clearly demonstrating the effect of strategic marketing during key festival periods.
Learn more about China's luxury industry
To continue exploring recent trends and insights from the world of luxury, including a deep dive into product category trends, we invite you to download the full whitepaper.
By reading this whitepaper, you can stay at the forefront of the luxury industry with access to the latest data and case studies exploring new market dynamics, consumer behavior, as well as the evolving landscape of luxury brands on digital platforms.